July 25, 2010
0

found this helpful
I'll be glad to answer your question. I've been sewing now for 45+ years and have never bothered learning how to sew on appliques until just very recently. I had to set aside my sewing projects since my sewing machine is now in the shop being repaired.
A friend of mine told me that she's made her own appliques by using a cookie cutter as a pattern. Also you can make your own patterns by using a child's coloring book. My friend also advised me not to use the iron-on adhesive since it doesn't hold up with frequent washings.
Save all your small pieces of fabric for making your appliques.
Here are a few websites to get you started. The only thing different that I don't do is use the iron-on adhesive. I pin the applique to my fabric, then I set my sewing machine on straight stitch and sew all the way around the applique close to the outer edge. Then I remove the straight pins, and set my machine on the satin zigzag stitch and sew around the applique.
http://thepaperseed.com/?p=2623
http://www.love … tchenhotpads.htm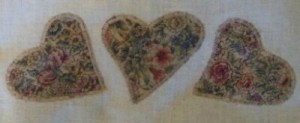 July 28, 2010
0

found this helpful
I use fusible webbing which is a paper-backed stuff you iron on the reverse side of the fabric. Once it is cool, you peel away the paper and it leaves you with an iron-on fabric which is also stablized for sewing.