Lil-Samy is a 4 month old tabby.
I found him when he was approx. 2 mos. old. He was lost or abandoned in a mall parking lot. He was so thin, near death. He was hungry, cold and infested with fleas. I took him to my vet. and I now have a beautiful healthy loving kitten.
He enjoys playing with his cat toys and pulling the toilet paper off the roll. He also enjoys chasing our older cat.
He is our little gift, he brought a lot of joy into our home during the holidays. He's very loving and likes to snuggle with my son at bedtime.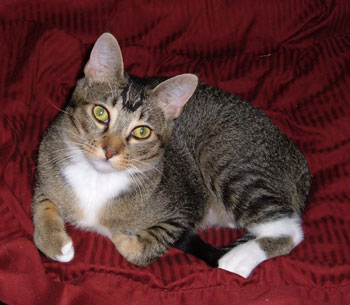 By Angela from San Francisco, CA