By Valdez (Guest Post)
July 22, 2008
0

found this helpful
Try getting a friend for the dog like another dog. I found this worked with my male boxer, I got him a girl never had another issue, he even became more obedient.
July 23, 2008
0

found this helpful
I would try obiedence training.
You can get this pretty much free if one of your kids would be interested in joining the dog group in 4-H.
Otherwise, i'd call the vet's and ask where to take him for training.
July 23, 2008
0

found this helpful
Smaller dogs can tend to be more territorial and have a personality that makes up for their size, depending on the breeds involved. Definitely seek out obedience training in your area -- PetsMart offers it, too, but I think a fee is involved.
By Guest (Guest Post)
July 23, 2008
0

found this helpful
Biters cannot be rehabilitated. Once they bite and/or attack, you always face the possibility of it happening again. We had a rescue dog that was absolutely wonderful except that he would bite without warning and without any kind of provocation that we could put our finger on. We had female dogs in the home also, but with no problems from them. His personality was fantastic except for the biting issue. My vet told me that there was nothing that could be done to make him stop. No amount of training, not getting him neutered, nothing.
My vet recommended that he be put down. This dog attacked my 85 year old father in law, attacked another dog in the neck causing stitches in 2 places on the other dog's neck, bit my husband, and bit me several times. The vet recommended against finding the dog another home because of the biting issue. We felt really bad about the whole thing. We've had the same vet for 17 years and he had never before recommended to us having a dog put down for any reason until we got this biter.
By Sally (Guest Post)
July 23, 2008
0

found this helpful
Put a muzzle on him when your son's friends come over or anytime he might be at risk of biting someone.
By Laura Allison (Guest Post)
July 23, 2008
0

found this helpful
My jack russell snarls and threatens to bite if he is awoken from a sleep, they say that this is a trait of jack russells but like you say, I am just waiting for him to bite someone. I too think a dog is for life.
I have discovered however that giving him more attention helps and I used to shout at him, more becauseI was frightened of him, but now I make a fuss of him and try and shift his awareness onto something else, but yes it can be frightening.
July 23, 2008
0

found this helpful
The solution, as you will learn more in the obedience training, is to act like a momma dog putting her pup into place. Say 'No', not a drawn-out whiny no, but a loud short no that sounds like the pop of a gun (or like a bark, right?). Within three seconds, if he did not respect you and obey, grab the back of the neck. Do not roll him upside down, that's the death hold, it will make him panic. Roll him on his side, hold him down for ten seconds, then let him up. Next time, the NO will do it without the down. BE the ALPHA. There is no substitute. You will be totally loving all other times, but when he is misbehaving, you switch into Momma Dog mode. Do not pet him during the down, because that's a reward. The down is not a punishment, it's a Now-See-Here to get him to pay attention when you say 'NO'.
July 24, 2008
0

found this helpful
POSTER AGAIN.
To explain how well trained and smart the dog is he rings a bell when he needs to go outside to do his business. He stops when we walk at curbs and sits till I tell him to go. He is an exceptional dog. Just bites. Does anyone think he might be better in a home without kids?
July 24, 2008
0

found this helpful
FROM POSTER.
Here is a picture of Cosmo. Today he growled at my son's friend. I put him in our bedroom till his friend went home.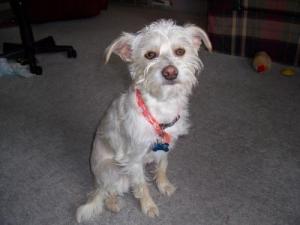 By Barbara J Snyder (Guest Post)
August 5, 2008
0

found this helpful
On the show Greatest American Dog, there is a woman who I saw to retrain a dog similar to yours. Her name is Victoria something and she is from England, honey, she is good.
I do not have the animal planet at my house anymore, but she trained these dogs. You have to be firm and show you are top dog. Please find out her name and buy her book it will help out a lot.
August 10, 2008
0

found this helpful
I am putting this one back out there. The dog has been good for about 2 1/2 weeks now. Yesterday he growled at my son and bite my friends daughter. Did not break the skin. I took him to the vet 2 1/2 weeks ago and the vet said maybe he is not the proper dog for my family. I agree. Just the rest of the family does not. No one wants to see the dog go. I have been doing the dominating top dog with him and he is fine with me, just not others. I do not have the $$ for private trainer. He just does not like kids very much. He will kind of tolerate mine. What to do when the family won't agree what to do with dog?
December 14, 2010
0

found this helpful
We have a little dog that once in a while gets snappy at the kids if they mess with her too much. She has never been like this with me and I find her to be a lark.
For us, since danger is not an issue, I feel the dog has every right to have her emotion and communicate when she's had enough. Sometimes you just want to be left alone. If you don't feel like you can have down time in your own home (especially when you're tired and trying to sleep), anyone would start to get stressed out and cranky. I believe your dog is feeling defensive of its rights since it feels as though it has little say over situations with certain people. I don't think training classes would work if you are the one going to training with your dog. Training classes really train people more than anything, and it sounds like you already know how to treat your dog. The people the dog is acting out towards are the ones who need to learn how to understand (possibly respect) your dog and its feelings.
Is there some place in the house where the dog can go where the children (and spouse) can be made to understand that that's the dog's private "bed room" (like, a dog bed, or under the couch)? Does the dog have its own bed and toys? Can the children be made to understand to respect the dog's feelings and personal space when it feels overcrowded? If not, then the fair thing to do for the dog and your kids is probably to find it a calmer home, or take it to a no-kill shelter.
Good Luck.