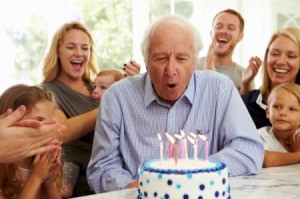 I am planning "A Walk Down Memory Lane" party for my 75 year old father this August. It is not a birthday so it will come as a complete surprise. We've gathered old photos, had friends and family write memories for a scrap book and had everyone sign a quilt piece when they come in so we can make a memory quilt.
I need more ideas especially, for taking some formal pictures at the party. I can get an arch and decorate it but need an idea for the background while trying to keep with the Memory Lane theme. I have some old ads from the 30's-50's along with pictures of stars of that period and lists of fads and popular music back then. Any more suggestions for decorationg appreciated.
Sherry from Indiana
Answers
By cinta (Guest Post)
May 15, 2005
0

found this helpful
Best Answer
Don't forget some great oldies music. You can buy some CDs or download them from winmx or whatever you have. It will definitely add to the atmosphere and you could give the CDs as party favors. An idea for the background would be a mural of old cars and trucks. Or if you know someone with a classic car, have them bring it to the party for a photo opportunity. You could have three tables (one for each decade) and put the appropriate things on each; like candy from that time, little model cars, and pictures. You could ask your guests to come dressed in 30s-50s attire. Hope this helps.

May 15, 2005
0

found this helpful
Best Answer
How about having different guests dress in the different era's garb? As I don't know how many people you have coming, but you could have some come in roaring 20s, hip 50s, way cool 70s, etc. Two minutes of internet surfing would also give you 'lingo' from each time frame that they could use.
Don't forget how important music is. Start early with some really old stuff and move through the years.
You could also research what year major inventions came out, or major steps in history, or both. You can put them on a piece of cardboard with the year in large numbers and hang them from the ceiling, so you (and your dad) can see all the things he's seen. He's seen everything from the TV to the landing on the moon. Under each one, you could put the phrase "Where were you when...?". I hope these are helpful.
By Connie A. (Guest Post)
September 12, 2008
0

found this helpful
Best Answer
What about setting an old radio on the table. You can always buy them on eBay. That would make a nice pre-birthday gift. Add to the decor a chair with a doily on the back of it and have each guest pose with him using black and white film, of course.
Everyone loves those old radios. If you don't have one, you might find someone to borrow one from, or even an old crank record player. What a sweet daughter you are.The world could use more like you.

May 14, 2007
0

found this helpful
Play some old-time jazz music from the Red-Hot Jazz website. Some of the stuff dates back form the 30s, Paul Whitemen's music ranges from the 20s to the 50s.
By Karen Lawson (Guest Post)
September 12, 2008
0

found this helpful
That sounds so sweet! Maybe you have seen how they do videos for funerals, well, not to sound morbid, but some of the old pics of him and his friends and family throught the years would be nice to show during the party.
Answer

this Question