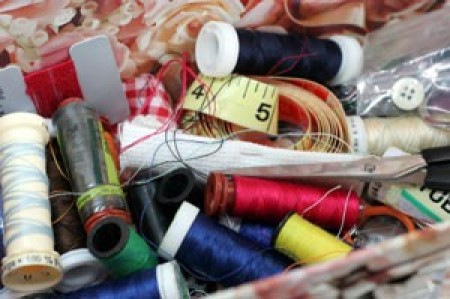 Craft Supplies
Ideas on how to organize craft supplies in a small space as posted from the ThriftyFun community.
Clear Containers For Different Crafts
I have one worktable, and some shelves, and I do very very different crafts. My sewing machine stays on or under the table, and I keep my sewing and paper supplies in plastic storage tubs, clear so I can see them. I just pull down whatever tub I need for that project. The tubs are about the size of a shoebox, and stack on the shelves. I also label the ends. If you are like me, you can crochet anywhere. If you have a tube or something for your crochet hooks and good storage for your yarn, that would be good. Pattern books as well as sewing patterns can go on a shelf, or in a file cabinet.

I keep my paper for scrapbooking and making cards in those plastic scrapping envelopes and on the bookcase also.

Tins And Baskets
I keep all my sewing and crafting supplies in candy tins which people give me. Sometimes I find them at garage sales for 50 cents or less. If you tell family and friends ave them for you. Different sizes of baskets, also to be found at garage sales, are good though they won't stack like the tins will. The HGTV web site might have some info on creative storage.

By MartyD
Use Recycled Cans
Clean tuna cans make excellent small item storage when placed in a drawer. Good for paper clips, buttons etc. Discarded cans (green beans, etc) make good storage for markers, scissors, rulers. Hot glue a heavy duty magnet on one side, They can then be attached to a cookie sheet or jelly roll pan which can be attached to the wall. This makes for easy removal when in use and can be put back with no fuss whatsoever. If you are really picky about how things look, you can decorate the cans.

By MartyD
Get Old Patterns At This Website
I get a lot of old patterns which are no longer in print from this site. There's no need for copy right worries.
By MartyD
Pegboards
I have 2 pegboards on the wall and it's amazing what they will hold. A pegboard sheet is 24x48 inches. At Home Depot they will cut into 2 halves. One could be for all your sewing supplies: scissors, thread, measuring tape, quilt rulers. The other half for all your craft equipment: pliers, wire cutters, scissors for fancy cuts, hammer, and embossing tools. Your imagination will take over. Home Depot has a package with 60-70 different shape hooks and bars to put a basket on for the small stuff. The pegboard is $6.00 and the hooks are $6.50. It's amazing how much I cleared off the shelves.

I have 2 five drawer storage containers with wheels. This is where I keep my stamps, paper, inks, material, pins, needles, You get the drift. I love my craft space.

Oops, I forgot to say you need four, 2 foot pieces of wood to put up on the wall and then nail the peg board to the wood. That way there is room for the hook to go into. If you don't do that the hook would only hit the wall. Cost of the cheapest wood for 48" is under $2.00 They will also cut it for you in 2 foot sizes.

By jkl
Magnetic Wall Organizer
At Lowe's, there is a flat white metal sheet that you can nail to the wall. Then there are 12 containers with see through tops and magnet on the bottom that you can put all small things into and attach them on the sheet on the wall with the magnet. Really handy. Also can be used in kitchen as spice holders. They sprinkle or spoon out.

By jkl
Studio Apartment Crafter Shares Her Tips
I have a few ideas since I live in a tiny studio apartment.
If you have a computer, scan as many of the one page printed patterns or copied patterns and store them in there. You can always reprint them if you need them, and they're really messy to keep around.

Don't forget the space above your head. One of my best friends had a genius idea, hang her stickers on racks. Here's a link to her blog where she has the instructions: http://mugsyboo.blogspot.com/2007/07/getting-organized.html

Use all kinds of plastic tubs. I like to use the round flat sprinkles containers for brads, small stickers and knickknacks. I use butter containers to hold my glues (so if any of the glue opens, it stays contained and doesn't ruin anything). My knitting/crocheting yarn goes into hat boxes so they stack nicely and I have them sorted by type (furry, RH, novelty).

Put your crochet hooks in hook rolls or buy one of those 97 cent school boxes at Walmart and put them in something like that to keep them in one spot.
The key to managing a small spot is making sure everything has its place AND you put them away. You'll never have to worry about it if you put everything away when you're done. My desk gets covered with paper envelopes, small bins and stuff while I'm scrapbooking, but when I'm done, the bins go back and I can play games on my desk again!

By cfbandit
Post your ideas below!
Answers:
Organizing Craft Supplies In A Small Space
May I add a few more ideas to yours.

Milkjugs? Cut the bottom off any size you like . mark what you put inside them and they stack. You can even stack bottoms of soda bottles in much the same way. If you paint or paste old magazine pictures on them as a camouflage.

If we were to really sit down and think about it. There are many reuses to almost everything. I love yours and keep up inventing new ones

REUSE SAVES MONEY AND THE PLANET
(10/26/2007)

By Mr. Thrifty
Organizing Craft Supplies In A Small Space
I think it is Gerber that now puts their baby food in rectangular plastic containers with snap on lids. They are great for keeping my beads in and are clear so I can see through them and see what's inside. I also have one in my sewing box to hold the little things that seem to get lost in there.
(11/10/2007)

By TonyaG
Organizing Craft Supplies In A Small Space
I love fabric and have a lot of small pieces. I love boxes,too.Especially shoe box size or thereabouts. I use up a lot of my fabric covering the various size boxes, then make a labels f or their contents. They are nice to look at on my shelves, they are useful in holding various craft supplies, and I have utilized some of my fabric. All in all, I am enjoying the crafting and making something useful out of what others would discard. (05/14/2010)

By sawn61