April 26, 2006
0

found this helpful
Best Answer
yes, it will leave marks on the carpet (have done it myself). I bought permanant markers in a huge pack, matched the color and colored in the white spots on the rug.-Misty
By Colorful Carpets (Guest Post)
July 25, 2007
0

found this helpful
Best Answer
Unfortunately you most likely will end up with carpet that is faded and bleached out. Especially since you have blue carpet. Blue is actually the color that is most readily damaged by bleaches and alkaline chemicals. It is possible, however, to repair this color damage.
I will share the same information that I posted for another individual who had spilled bleach on their carpet:
While there are some do-it-yourself spot dye kits available, this repair really should be left to a professional carpet dyeing company as it would be nearly impossible for an untrained person to achieve a good color match.
Also, the bleach spot needs to be properly and fully neutralized, using a bleach neutralizer in order to prevent the spot from just fading out again once it has been repaired.
I would suggest that you check in your local telephone directory to locate a carpet dyeing professional who can perform this repair for you. You could also look for a company or individual online.
Hope this helps you!
Sincerely,
Chris Howell
www.colorfulcarpets.com
Maryland, USA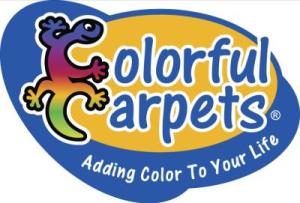 By Carol in PA (Guest Post)
April 26, 2006
0

found this helpful
If there was chlorine bleach in the water that was spilled on your carpet, it will remove the color from your carpet and leave a white spot.
April 27, 2006
0

found this helpful
I have dropped a bottle of bleach water on a blue carpet before and frantically tried to soak it up thinking I'd undoubtedly have a bleach spot there. I wasn't able to immediately soak it with anything so it did sit for perhaps 2 minutes.
NOthing happened...I was totally surprised, and I'm not sure why it didn't bleach the carpet. Maybe the ratio of bleach to water was too low, or maybe the solution had set long enough for the bleach to lose its potency. At any rate I was extremely relieved.