No Knitting Required! I'm a cheater, I made a felted purse out of a really too bright mens XL sweater I bought at a second hand store. Has to be 100% wool, no blends.
After I purposely shrank it by washing it in the washer (hot water), and drying it in the dryer, I cut off the arms to use for handles later. Then I turned it so that the waist band is now the top, I laid it flat and cut a straight line from side to side through both layers right above the neck hole.
Note: Here's where you have to decide which side is the prettier side and turn your felted sweater accordingly, all sewing should be done on the wrong side to hide the work.
I sewed up the cut sides and along the newly cut bottom, then I folded in my corners until I got the width of my purse right. I pinned them, sewed them across the widest part and tacked them down along the bottom seam of the purse, make sure you center this. This might be called "the bag technique". I turned the bag right side out and folded the waist band down over the edge, just to where the ribbed stitching ended or the colors changed.
I got one sleeve, cut off the inner felted seam and laid it flat. I cut two equal strips 2 inches wide, these are your handles. I folded each strip in half length wise and sewed the sides together, you'll have two 1 inch rope style handles. I pinned them inside the purse and stitched them so that the work would be hidden under the folded over-hang of the waist band, make sure NOT to stitch down the waist band. Adjust the handles to your preference before you stitch.
I sprayed the purse with warm water, and stuffed it with plastic trash bags to dry after I had gotten it to the shape I like most. On the first bag, I got a crochet hook and added eyelash yarn in the same color as the waistband to it's entire width, right to the point where the colors changed. On the second purse, I added beaded embellishments to the waist band, because I like shiny things. Because the waist band is knitted in rib stitch, it never really felted tight, but I made it work.
Hmmm, what did I do with the other sleeve? Why I made a jacket for my Chihuahua of course. :-) I'm not just Fickle, I'm thrifty too!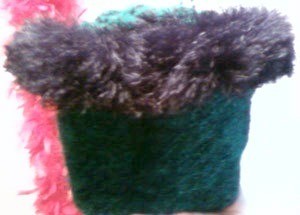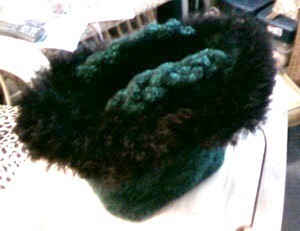 By ficklephonebug from Bakersfield, CA