Question:
What are the little grey bugs all over my gourds and squash and the vines? My plants seem to be dyeing because of these bugs.
Hardiness Zone: 5a
Candace from Charlotte, MI
Answer:
Candice,
Does this look like your bug?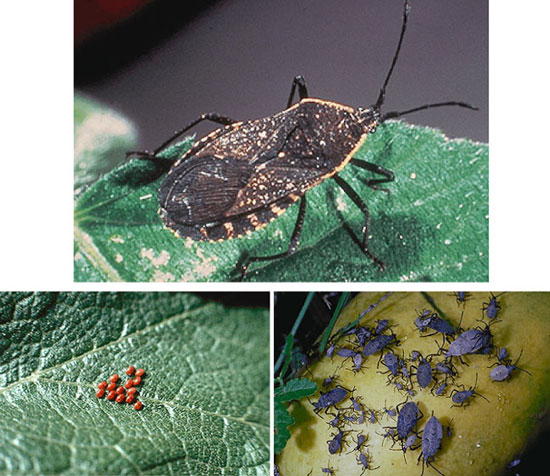 Source: University of Illinois
If so, you're dealing with Squash bugs. In both the adult and the nymph form, these insects suck the plant's juices, which causes the leaves and young shoots to turn black and die. The symptoms are similar to those of a wilt disease, and if infestations are severe the plant will fail to produce or die altogether.
You can protect your plants by covering them with floating row covers (you'll need to hand pollinate) or by setting out boards or shingles on the ground near your plants in early summer to trap and remove the bugs by hand.
Another strategy is to plant disease resistant plants that are bred to better withstand attacks. Some resistant cultivars include 'Butternut', 'Early Golden Bush Scallop', 'Early Summer Crookneck', 'Table Queen', 'Improved Green Hubbard', and 'Royal Acorn' among others. Ask you county extension agent for resistant varieties in your area.
Ellen