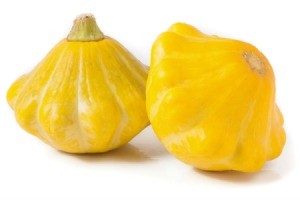 Has anyone heard of a recipe that sounds similar to rice pudding, but uses patty pan squash? I was told about a method of preparing patty pan squash, that calls for steaming the squash, and then adds a sauce or liquid similar to what is added to rice. I believe cinnamon and sugar are added, too. Sounds intriguing, but my friend didnt know if it was something that her mother had just made up or if it was a real recipe! Thanks in advance!
Pam from NE
Answers

August 3, 2006
0

found this helpful
Best Answer
Caramelized Squash Pudding
1/2 cup maple syrup
1/4 plus 1/3 cup rice syrup
1 1/2 Tbsp. butter
1 cup Milk 3 Tbsp. unbleached white flour
1 1/2 cup pureed squash (pie pumpkin or buttercup)
3 eggs, lightly, beaten
Preheat oven to 375° F. In a small saucepan, combine maple syrup and 1/4 cup rice syrup with butter. Bring to a boil and cook, stirring occasionally, until syrup reaches soft ball stage (230 degrees on a candy thermometer). Immediately pour syrup into an 8 inch soufflé dish, covering the bottom completely.
In a medium saucepan, whisk flour into milk and cook slowly over medium heat. Continue to whisk until mixture boils and thickens. Mix in remaining 1/3 cup rice syrup. Add mixture to puree squash in a large mixing bowl. Add eggs and mix well.
Pour pudding mixture into soufflé dish. Bake in center of oven until custard is set and a knife inserted in the center comes out clean, about 1 hour. Cool briefly on a cake rack. Place a serving plate over the soufflé dish and invert, shaking if necessary until pudding drops down onto the plate. Cover and chill before serving.

September 25, 2007
0

found this helpful
Best Answer
Here is how I cook patty pan squash but it isn't really a pudding. I cut them in half so they make little squash "bowls" and scoop the seeds out. I take a bit of butter, a spoonful of brown sugar per half, and a dash of salt. I am allergic to cinnamon but a dusting would be delicious. I put them in a microwave safe bowl, add a little water to the bowl in the bottom and cover them with wax paper. The wax paper seems to let just the right amount of moisture out so they don't steam to the soggy stage.
I microwave them for a few minutes until they are tender and they are delicious. They taste so buttery. Once while dining at a fancy restaurant, they served broiled yellow squash sliced the long way, not in rounds, and sprinkled with brown sugar and butter and they were broiled and served piping hot. They were delicious and the Sunday lunch diners were asking for seconds, and my table was one of them. I have replicated that recipe for years and my family never tires of them and they are so easy to prepare.
Answer

this Question