May 31, 2011
0

found this helpful
Best Answer
I am quite sure lemon juice will do nothing for stretch marks.
June 1, 2011
0

found this helpful
Best Answer
When I was pregnant with my son, I used Palmer's cocoa butter for stretch marks. I lathered up the areas prone to stretch marks (breasts, thighs, love handles, and especially the stomach) twice a day. I made it through my entire pregnancy with no stretch marks, and the ones I already had before becoming pregnant, got lightened to the point where you couldn't see them unless you were looking ultra hard for them!
Hope this helps.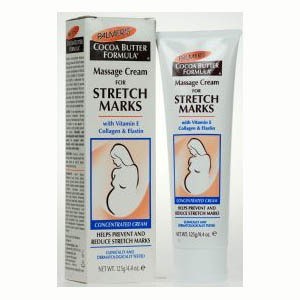 May 26, 2011
0

found this helpful
Some ladies have told me that they used Cocoa Butter to reduce stretch marks.
May 27, 2011
0

found this helpful
http://www.goog … on+juice+for+str
Here is the google search. Be careful however, as expensive creams are a waste of money. At least, that is what Dr. Oz says, as they are tears under the skin, not of the skin. He says little will help. I am kind of on the fence, so who knows. I hope this helps.
May 27, 2011
0

found this helpful
I used a product called "mother's friend" which is available at most drug stores over the counter. It helped my stretch marks when I was pregnant. Not very expensive either. Good luck.
June 6, 2011
0

found this helpful
I suggest using aloe in the morning and vitamin E oil at night. Pure!
January 21, 2013
0

found this helpful
My aunt, who is a nurse, told me about bio oil and it seems to be working for me. just put it on a couple times a day like when you wake up and before you go to bed and after a couple months it will be gone they say to start use of it within your first trimester of pregnancy. I didn't until my third. Mine were deep and dark, and the bio oil is helping.