November 8, 2008
0

found this helpful
Hi Susan,
Your Cow reminds me of my Harry! I felt the love as soon as I saw him! While our boys are different in length of hair and ear and chin color (and I suppose tail color as well) they do both have the same sweet eyes! Harry is named after Houdini for always escaping before we had him tested for illnesses (had other cats at home.) He does not desire boxes, but his sister Sami just loves them. Even at her heaviest of 22 1/2 pounds she always managed to squeeze into the smallest box, including my shoe boxes, believing she actually fit. To this day, it's always fun to see her successfully manage with pride in her eyes, a purr in her heart and maybe a tear in the corner.
I actually refer to Harry as "my cowboy" once in a while, so it was fun to see that you named your little boy Cow. They both carry the same spots. While you cant see them in his picture, he has one large spot on his right side and on top his tail. I dont know if youve noticed on Cow, but Harrys paw pads alternate randomly between pink and black. So sweet! Harry loves to chase his tail, even on the smallest of surfaces which always sent him flying. Hes gotten a little more conservative in his older years (he is 15 and Sami is 16). Unfortunately, he also loves plastic, so I keep a close watch of for him around the garbage can. He also loves the usual, toys, catnip and the occasional full moon. Does you boy go nuts, too?? Chocolate pudding is always a no-no, but I give him two licks once in a while. Like mom, like son. We both have a sweet spot for that. While independent as a youngin, Harry has become my little man, a real mamas boy. Ive never received so much affection from him as Ive done within the last couple of years (this may also be due in part to Samis illness). So, I guess you can actually say men can change!! While Harry and Sami are not from the same liter, I still refer to them as siblings. I found both of them Harry in the woods of PA and Sami on the streets of Passaic, NJ. Adopted together, we make the best family I could ever wish for. God truly blessed me by sending them along my path to enrich and guide my life for the better. May all good and wonderful things continue to bless your home.
PS: Im including pictures of my babies; however, they are very young here, about 1-2 years old.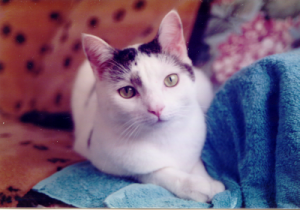 By Janet45101 (Guest Post)
November 10, 2008
0

found this helpful
Cow is absolutely gorgeous! Thank you for the great picture.
By nancycorinne (Guest Post)
November 10, 2008
0

found this helpful
Cow looks like he's a stuffed toy in that box. Ready for Santa or someone to put him under the tree!
By (Guest Post)
November 11, 2008
0

found this helpful
Amazing name for a cat, but I can kinda see why you called him Cow. What a stunning looking kitty! I am so glad he has a happy home with siblings. Julie, Australia.