July 5, 2006
0

found this helpful
If it were my child I would do more than try to "encourage".
The place's your child walks on harbors germs on the floors where others have walked in I don't know what, on the bottom of their shoes.
She should protect her feet, they hold up & carry her body.
When at home let her go barefoot, it's fun for a child. But not in public 'bathrooms etc'.
July 8, 2006
0

found this helpful
People may have thrown down cigarette butts that are still burning, they may urinate on the floor tiles of a public restroom (or there may be other bodily fluids in public areas), also, drug users may have dropped needles in public areas.
At home, I know what my child is stepping in, ... anywhere else, it is anyone's guess.
I don't know if your country's laws mention this, but here, in the US, in my city, there are many signs posted on restaurants, grocery stores and other establishments that say, "NO SHIRT, NO SHOES, NO SERVICE". This is a public health and safety matter.
By j (Guest Post)
July 10, 2006
0

found this helpful
I would agree with the other comments...that is just unsanitary. If going barefoot is OK with you, then that's OK but please have respect for others. I find it to be uncivilized to walk barefoot in a restaurant or airport.
July 10, 2006
0

found this helpful
I think letting children go barefoot indoors in their own home is perfectly fine or perhaps out in the yard but not out in public. My gosh.....the germs. If a child had the least little cut on the bottom of her foot, think of the bacteria.....not only is it unsanitary for the child but it does not look good either and some places even have signs about no bare feet!
There used to be a time many years ago when children went barefoot in the warm months, especially if they were poor....but certainly we have gotten past that.
I am not sure why the question was asked in the first place!
July 10, 2006
0

found this helpful
As a child my Father encouraged us to go barefoot at home because it allows a childs foot to grow properly and not conform to the shape of shoes, especially when they may not fit as properly as one would like. HOWEVER we always wore shoes in public for health reasons and also because they are many places that do not allow barefeet. There are far too many health risks when going barefoot beyond your own backyard. Dealing with a bee sting from barefooting in the backyard/park/meadow is one thing but the risk of diseases and injuries from dirty surroundings that may have feces, urine, vomit, blood (which can pass many diseases along with them) broken glass, hypodermic needles, nails, shards of metal etc. Be safe and only let her barefoot it at home.
July 10, 2006
0

found this helpful
No way would I let a child walk barefooted on anything but a clean floor at home or lush grass in my backyard. Okay and around the pool.
I'll bet a doctor would have serious concerns about going barefoot in public, plus I think it is disgusting.
Jennifer
Northern Virginia
By Brenda (Guest Post)
July 10, 2006
0

found this helpful
I can tell you from experience, don't let your children go barefoot anywhere if you can help it. I just had foot surgery for a heel spur and to cut the ligament on the bottom of my foot. It is due to going barefoot for so long. I am 40 years old now. Your children need good shoes with good support.
August 6, 2006
0

found this helpful
Doctor's are actually encouraging people to keep their children out of hard shoes right now while their feet are growning; especially younger ones. I don't think you are doing her any harm or injustice as long as you are in an environment where you KNOW what is on the floor and how clean everything is.
In public maybe you could find her some soft-sole shoe or flip flop type things that do the basic job of keeping her from harms way and still allow her more freedom.
By Sally (Guest Post)
December 14, 2007
0

found this helpful
My daughters wear shoes outside at all times (or boots, sandals, whatever) but always take their shoes and socks off in the house.
By Stephanie (Guest Post)
June 9, 2008
2

found this helpful
Well my two daughters (9 and 11) go barefoot almost all of the time except for church and school. Even at church they take their shoes off during church and Sunday school. What I have noticed is if the child is raised to go barefoot, their skin on their feet is tough enough to handle most things they might step on. I know my 11 year old has walked over broken glass before without injury. My 9 year old plays in the street.
The worst that happens is their feet are dirty on the bottoms and need a trip by the garden hose before they come in. I take them shopping barefoot -- if it is too hot, I grab a buggy and they ride to the store so they do not burn their feet on the pavement. Inside the stores, they like the cool floor on their feet. They also find it easier to climb trees barefooted. Last night after the girls had their showers, they were laying down on a blanket in the living room watching TV.
I checked over their feet (since the bottoms were up the way they were lying) and they are developing perfectly fine. They both have tough feet and the only time I insist on shoes is for church and school. When we attend weddings, the shoes come off as soon as we arrive at the reception. Sometimes that also includes a quick ladies room trip for the youngest, if she is wearing tights, to take them off and then she hands me her shoes and tights (I do not allow them to play in socks or tights, they know if their shoes come off, their socks or tights come off too). Sure their feet get a little dirty, but it appears to help their feet develop better. Steph
February 12, 2018
3

found this helpful
Most children love going barefoot, and don't need much encouragement. Positive reinforcement by playing with their tootsies whenever they spend a whole day barefoot helps, especially silly chase/tickle games like Hungry Wolf. Next time you visit the beach, donate their socks and shoes and take them all home barefoot! It will be a fun, memorable occasion for them, and you won't have to deal with sandy shoes.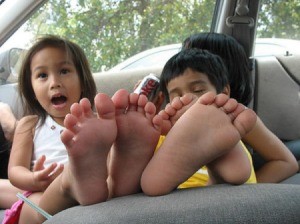 March 25, 2019
1

found this helpful