August 6, 2007
0

found this helpful
Your ideas sound wonderful. I would go with the black and white theme though you'd be amazed what you can do with it.
Black and white streamers for ceiling decor.
Stars, covered in black and white glitter, hanging from the streamers
Silouetes Of Dancers from all the eras, watlzing, jitterbuger, zoot suited, look on the net for pictures of different era dancers and use overhead projector to do outline on black paper to place on the walls
If you school has strobe lights they can be covered to strobe black and white stars or circles while you dance around.
If your band is willing have them each dress for a different era (Female singer flapper or Ginger Rogers sleek and sexy, Males Zoot suit or tux or pin striped)
You could have the students draw for thier era or if different grades are going each grade is different era.
The net can give you ideas for black and white foods if needed,same with cloths and music choices.
Have fun homecomings are a wonderful memory. :)
August 8, 2007
0

found this helpful
Sounds really fun. You could go to the free clip art sites for images that would be something to copy or blow up or just ideas. I'm envisioning a big homemade poster of a man blowing a trumpet like 40's big band sound, or '20's dance craze pictures with charleston and such dances. Or poodle skirts and saddle shoes in the very vigorous dance styles of the pre-Beatles 50's.
By guest (Guest Post)
August 8, 2007
0

found this helpful
go to some thrifty stores or yard sales and get old 45's, 33's or 78's and hang on walls and from streamers from the ceiling. you can also melt them in the oven and make containers for center pieces or nuts. posters with a 10 year span of #1 hits. rent an old juke box. have a dancing contest and give tickets to a nice restaurant or play. do invitations on music sheet printed paper. the possibilities are endless. good luck and keep it fun! we are all young on the inside.
August 8, 2007
0

found this helpful
I favour the black and white theme overall. But since its vintage, don't forget to add sepia(a kind of brown tint or stain like you see on really old photographs) to some of the posters or pictures that would truly make them seem old. One way would be to stain the edges with strong tea for posters and pictures. A bit of antiqued lace and flapper fringe wouldn't hurt either. I'm seeing tuxes or dark suits with snow white shirts for the guys, beaded flapper style dresses, headbands with feathers in them for the girls. Actually, I'd be tempted to add a touch of silver to glitz up the black and white. Big band music and jazz are a must. If you can find pics of old phonograph players and antique wooden floor model radios that could be blown up, that would cool too. You have to remember that this is my generation's idea of vintage though. Just have fun, whatever you pick.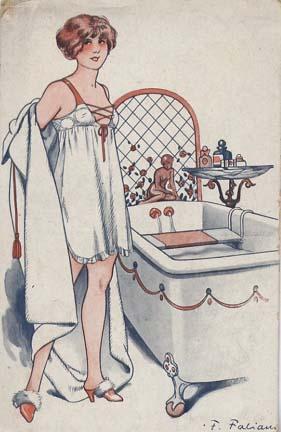 By guest (Guest Post)
September 9, 2007
0

found this helpful
Hi Michelle, I see that there are a lot of great ideas coming in for you and your project! If you have a large budget maybe you can rent (or borrow) some mannequins to use as props. Dress them accordingly and place them around the gym with some of the other props. Maybe you could use some special lighting to show off each area.
Like using the juke box and have a female in a poodle skirt. Maybe a guy and girl in a dance pose. I hope that you get what I'm trying to say. God Bless!
By guest (Guest Post)
October 9, 2007
0

found this helpful
Take a camera a projector and a giant screen less cardboard antique TV put the projector in the TV put a large white canvas screen in the TV then hook up the camera to the projector and set it to record the dance floor and play it on the screen in b and w.