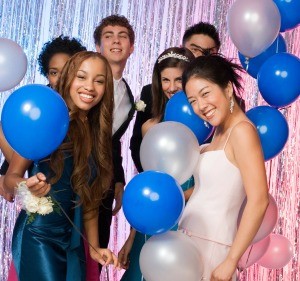 Hi, I'm supposed to be in charge of decorating our school's Homecoming this Fall, well along with my partner of course. We're the Decorations commissioners of our ASB so, yeah, it's pretty much our job. Well, I was wondering if anyone had any ideas or tips on decorating a "Dancing Through Time"/"Dancing Through Decades" type dance. A couple of our ideas were possibly making it kind of black and white, and very vintage looking, or with very bold colors also making it look vintage.
Our goal is to go BIG and make it something our school has never seen before. We have a pretty big budget to work from this year, so we're taking it up a notch. We really need help, and I'm open to new ideas! THANK YOU!
Michelle from San Diego, CA
Answers

August 6, 2007
0

found this helpful
Your ideas sound wonderful. I would go with the black and white theme though you'd be amazed what you can do with it.
Black and white streamers for ceiling decor.
Stars, covered in black and white glitter, hanging from the streamers
Silouetes Of Dancers from all the eras, watlzing, jitterbuger, zoot suited, look on the net for pictures of different era dancers and use overhead projector to do outline on black paper to place on the walls
If you school has strobe lights they can be covered to strobe black and white stars or circles while you dance around.
If your band is willing have them each dress for a different era (Female singer flapper or Ginger Rogers sleek and sexy, Males Zoot suit or tux or pin striped)
You could have the students draw for thier era or if different grades are going each grade is different era.
The net can give you ideas for black and white foods if needed,same with cloths and music choices.
Have fun homecomings are a wonderful memory. :)

August 8, 2007
0

found this helpful
Sounds really fun. You could go to the free clip art sites for images that would be something to copy or blow up or just ideas. I'm envisioning a big homemade poster of a man blowing a trumpet like 40's big band sound, or '20's dance craze pictures with charleston and such dances.
Or poodle skirts and saddle shoes in the very vigorous dance styles of the pre-Beatles 50's.
By boo_baboo@yahoo.com (Guest Post)
August 8, 2007
0

found this helpful
go to some thrifty stores or yard sales and get old 45's, 33's or 78's and hang on walls and from streamers from the ceiling. you can also melt them in the oven and make containers for center pieces or nuts. posters with a 10 year span of #1 hits. rent an old juke box. have a dancing contest and give tickets to a nice restaurant or play. do invitations on music sheet printed paper. the possibilities are endless. good luck and keep it fun! we are all young on the inside.

August 8, 2007
0

found this helpful
I favour the black and white theme overall. But since its vintage, don't forget to add sepia(a kind of brown tint or stain like you see on really old photographs) to some of the posters or pictures that would truly make them seem old. One way would be to stain the edges with strong tea for posters and pictures. A bit of antiqued lace and flapper fringe wouldn't hurt either. I'm seeing tuxes or dark suits with snow white shirts for the guys, beaded flapper style dresses, headbands with feathers in them for the girls.
Actually, I'd be tempted to add a touch of silver to glitz up the black and white. Big band music and jazz are a must. If you can find pics of old phonograph players and antique wooden floor model radios that could be blown up, that would cool too. You have to remember that this is my generation's idea of vintage though. Just have fun, whatever you pick.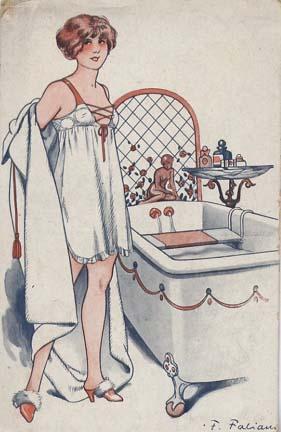 By (Guest Post)
September 9, 2007
0

found this helpful
Hi Michelle, I see that there are a lot of great ideas coming in for you and your project! If you have a large budget maybe you can rent (or borrow) some mannequins to use as props. Dress them accordingly and place them around the gym with some of the other props. Maybe you could use some special lighting to show off each area.
Like using the juke box and have a female in a poodle skirt. Maybe a guy and girl in a dance pose. I hope that you get what I'm trying to say. God Bless!
By (Guest Post)
October 9, 2007
0

found this helpful
Take a camera a projector and a giant screen less cardboard antique TV put the projector in the TV put a large white canvas screen in the TV then hook up the camera to the projector and set it to record the dance floor and play it on the screen in b and w.
Answer

this Question
I need some ideas for a "roaring twenties theme" at my high school's homecoming in October.

Dwoods from LasVegas, Nevada

Answers
By pam2cats (Guest Post)
August 20, 2006
0

found this helpful
Gee, even I am not old enough to remember the roaring twenties. I do know that the most popular dance was the Charleston. good luck.
By (Guest Post)
August 21, 2006
0

found this helpful
What comes to mind is Flappers wearing dresses with fringe all down them. Head bands with feathers and sequins on them. Dramatic eye make up, guys wearing top hats and tails. Zoot Suits and gangsters.
Boa feathers draped around and flowing. Go on line and look up the roaring twentys there are tons of things out there.
Center pieces could be a Top hat with Flowers in it. Or little decorations with top hats and canes.

August 21, 2006
0

found this helpful
did a search on Roaring Twenties Party theme and here is what came up: It has lots of ideas and info here. Good luck. Oh, I said top hats in my last post it is looking like it should be fedora's
www.dinnerandamurder.com/.../1920s.htm
1920'S THEME IDEAS:
- Black & White
- Speakeasy Bar
- Gangsters / Al Capone / Bugsy Siegel
- Flappers
- Silent Movies
- Jazz / The Charleston / The Black Bottom / The Lindy Hop
- Al Jolson / Duke Ellington / Irving Berlin / Fanny Brice
- Prohibition "Bathtub Gin"
- The Great Gatsby
- Cotton Club / Ragtime Band
- Art Deco / Aviation
- Fedoras / English Driving Caps / Zoot Suits / Wing Tip Shoes
- Model T Fords / Tabloid Newspapers
- Mah Jongg / Oriental Lanterns / Victrolas
- Long Pearl Necklaces / Headbands / Feathers / Cloche Hats

August 22, 2006
0

found this helpful
20's music is a must. Blacks and Silver can be used. Head bands and Feather's, boa's and that sort. Radio shows were big like red skelton, charlie mcarthy. Fred astair and gingr rodger. Charlie chaplin and the depression was also begining but thats not really anything to use.
By DKing (Guest Post)
August 27, 2006
0

found this helpful
Our school is having a 20's themed homecoming also, and for most of the decorations, we are projecting silent movies on the walls.try it out!
Good luck!
Read More

Answers

I am in charge of this years homecoming dance decorations for Lutheran East High and the theme this year is "Midnight in Paris". I need some help with decorating. I am on a tight budget and I need some ideas about some nice but reasonably priced decorations. Help!
Angela from Cleveland Heights, Ohio
Answers

September 11, 2008
0

found this helpful
We did a HUGE party for my daughter with a Paris theme. We had black skyline cutouts, either backlit, or with white Christmas lights lining the top. These were all around the rooms with black paper behind them. We put some glue & glitter stars on the paper to add more glitz.
Colors that are very "Paris" are black and white, with pops of color (we used pink). Table cloths were black and white striped. Centerpieces were simple clear vases with a white flower and black, white, and pink ribbons.
Maybe the drama department would have something you could use, or even help make some backdrops, like the Eiffel Tower or Arc de Triomphe.
For the photo area, we had a "park" set up with astroturf, a garden bench, and a fountain and birdbath.
Good luck!

September 12, 2008
0

found this helpful
I would use navy blue to suggest midnight with silver stars.

September 12, 2008
0

found this helpful
PS I know this is silly but watch Disney's the Aristocats. That was set in Paris and it would be good for design ideas.
Answer

this Question
I need an idea to decorate outside by the gym door entrance. The theme is "Glow Fight Win". I have a laser show for inside, but need outdoor decorations. This is for the homecoming dance. Thanks.
By Cheryl
Answers

September 5, 2014
0

found this helpful
I haven't totally thought out the ideas, but maybe you could add to them by brainstorming.
1. Attach glowsticks around the doorway covering them with something (don't know what yet) and diffusing the light allowing the color(s) to "glow" through.
Or,
2. Attach glow necklaces stretched out to spell the school's name or the words: "Glow Fight Win." I think I like that idea! :)
Hope that gives you something to go on.
Answer

this Question

For homecoming, my group and I decided to do battleship. However, we need ideas. So far we know that we want to cover the wall and floor with the gridding from battleship, so as to make it 3D but after that we're semi stumped. ANY help would be greatly appreciated! Thanks!
Brittni
Answers

September 29, 2007
0

found this helpful
Go see your Navy recruiter for pictures-- info and other ideas......
have fun!
Answer

this Question