July 15, 2009
0

found this helpful
I don't have any magic plan except choose one and get busy, and don't start another until they are all finished.

Joan
Bronze Feedback Medal for All Time! 186 Feedbacks
July 15, 2009
0

found this helpful
That is my advice too. I sometimes end up like that, but that is because I will start one thing and then something will come up that I need something different for and have to start something different.

July 15, 2009
0

found this helpful
Convince yourself that there are certain events for which you need to have the items completed. For instance, you could decide you want to wear the sweater to the first football game of the fall. Two other things that help me (especially with crochet projects): Leave the unfinished project out on the coffee table or other prominent place and Take it with you when you have to wait for appointments, travel, or visit relatives.

July 15, 2009
0

found this helpful
Start with the one that you can take with you when you may have to wait (Doctor's office, etc.) or meeting, when they don't mind if you do handcraft. Do the most mindless first. Or do the one most finished. You will be relieved and it will be easier to go on to another.
Or Give the one you are least happy about to a thrift shop or some place where someone else will like it. You don't have to be tethered to it for life. Give it up if you don't want to finish it.

(Guest)
Gold Post Medal for All Time! 846 Posts
July 16, 2009
0

found this helpful
Same as other posts ;-) Choose one and finish it, move on to the next and finish it, etc. and 'do not' start a new project before finishing the others first ;-)

July 16, 2009
0

found this helpful
Could we possibly be related? I have numerous unfinished projects because I work on one craft until I tire of it or I run out of materials, then I move to something else.
I recently moved and found several unfinished projects which I put all in the same place in a stack. I ordered yarn to finish two of the projects, which have now been completed.
That was such a good feeling that I try to alternate finishing one already started with a new one. That way I get to complete something already started and am rewarded by being able to use my new pattern.
Also, I try to select colors for my new projects from materials I already have--tubs and tubs and tubs of yarn which I purchased on sale. Now the stack of unfinished projects is getting smaller as well as the yarn inventory.

July 16, 2009
0

found this helpful
Do you know any other crafters nearby? You could start a weekly UFO(unfinished object) weekly get together where everyone brings a craft to work on and you do it together. You could even alternate whose house you go to and hostess could supply coffee or tea if she wanted.
You`ll be amazed how much you`ll get done. If this isn`t possible, follow all the good advice of those ahead of me, pick one, work on it until finished(take short breaks only). Keep going until finished all the started projects before beginning anything new.

July 16, 2009
0

found this helpful
I always have a list of projects waiting and that's posted in my craft area. It's a huge reward to cross off one of those projects. But I do have other projects that don't make the list because they are not compelling to me anymore. I will sometimes change the project or (gasp!) give it away. You might need to recognize that your tastes have changed and you don't really want to do that project now.
Giving it away to someone else who would love to do that project might be a blessing to them! Making it a smaller version or donating the finished project to a non-profit agency may increase your motivation to get it done!
Just some random thoughts, hope that helps. The picture below is one of many place mats I made when I ditched the idea of doing a huge quilt.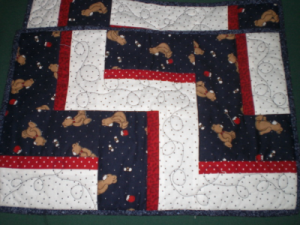 July 16, 2009
0

found this helpful
Take out one at a time and finish it and if you don't want it anymore sell it on eBay and buy something for yourself. You can save the earnings from all of the crafts and buy something really nice.
Or make them for Christmas gifts. Whatever you do have fun doing it!

July 16, 2009
0

found this helpful
One of the crafting email groups I'm on had a "Stuff Project" that had very simple rules--work on your project for 5 minutes every other night. It doesn't seem like much, but I found that once I got going, I could easily do more than 5 minutes. And it kept me from getting burned out on any one project. You could pick a UFO (Unfinished Object), and work on it 5 minutes at a time until you have it done, then move on to another one. Or you could just work on different ones for the 5 minutes until they're done, that way you're making progress on all of them.

DeBushe
Bronze Feedback Medal for All Time! 179 Feedbacks
July 17, 2009
0

found this helpful
Keep in mind that you can "finish" a project by choosing to "not to finish" it. Then put all the materials and instructions in a big ziploc and take it to your local Senior Center. There are usually people there who like to have these projects. Just because you started something doesn't mean that you must finish it! Sometimes we start things in a different "craft" and find out it isn't one we wish to pursue.

July 19, 2009
0

found this helpful
Really good advice to a pertinent question (for me).

August 29, 2009
0

found this helpful
I can help you, jcarpenter of Mt. Pleasant, MI. Would you be wiilling to pay to have your unfinished jean quilt finished? Let's talk.

September 1, 2009
0

found this helpful
The suggestion to spend 5 minutes every other day sounds good to me since I have tried all the others before.