This is a beautiful personable gift that is inexpensive but looks expensive. Makes a wonderful gift for any member of the family or a dear friend. Who doesn't need a photo album? It is just one of the things we deny ourselves when it comes down to it.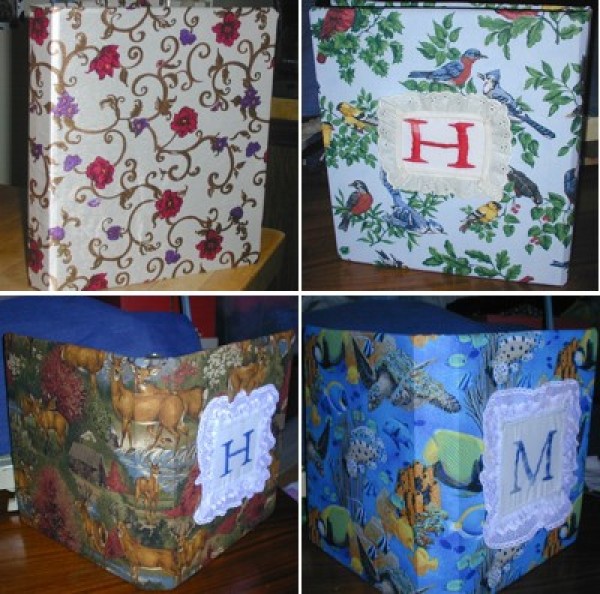 Approximate Time: 60 minutes
Supplies:
ruler or yardstick
paper or material
pins
scissors
hot glue gun and glue sticks
iron
1- one inch three ring binder
10 pages of picture holders
1 pretty piece of material bigger than 26 inches wide by 16 inches long
butter knife optional
Instructions:
Measure a piece of material or paper to 26 inches wide by 16 inches long. Select a piece of material that is appealing to you.
Iron out any wrinkles you see. Pin your pattern to the piece of material. (I bought a housecoat from a thrift shop and it worked well.)
Be sure to line your fabric up so that if the pattern on the material is a one way pattern that you are cutting it correctly.

Next cut around your pattern as close as you can get to the fabric you intend to use on your project. (If it is a little crooked don't worry it won't show in the next few steps.)
Remove the pattern and re-iron it and heat up your glue gun.
Turn the material over so you are looking at the back of the material. Start from the bottom and begin to make a small crease, about 1/2 inch. Iron this crease down as you go. You should have enough material to bring the creased part inward and fold again. Repeat for the top of the fabric.
When you have finished that choose a side and begin ironing it into a small crease. Do this to both sides.
Next starting at the top or bottom use a touch of glue from your glue gun and fold up your material over and making sure it is well glued. If the glue is too hot use a butter knife to smooth it.
Try to keep your crease as even as possible. Be sure you glue the top and bottom sections down before going to the sides.
Turn your material and glue down the creases you have made with the iron.
After all this is completed it is time to add your 2 ring binder. Put it in the middle of the fabric. Lifting one side of the binder, add a small bead of glue and lay it back down and press down on the center. This helps distribute the glue evenly.
Next fold over the bottom edge again and make a crease with your hands. Try to position the fold so that it is equal all the way across the bottom. Glue down one bottom end to the binder until you get to the center of the binder.

Cut the piece of material around the binder middle on both sides. Then cut off about half of the material. Fold the other half and add a touch of glue to it and push it with scissors into the binder bottom underneath the metal part. (See picture)
Continue to glue the other side of the bottom. When it is finished turn the binder around and make sure your material is in place. (I give mine a little tug to be sure I won't have any wrinkles before I get started on that half.)
Repeat the process you did for the bottom.
Now you should have 2 sides that have not been been attached to the binder. Be sure to give your material a little tug to keep from having wrinkles in it. Fold over one edge of the side and miter it like we did before. If there is too much material you can cut off a piece in a triangle shape.
Refold the material, miter it and glue it into place. Continue folding and gluing until you get near the end. Again, you will need to miter the edges and cut away any extra material. Repeat for the other side.

Examine the folds and make sure they are all well glued to the binder. After you are satisfied add your 10 sheets of picture holders to the binder. Viola you have a handmade photo album.
This makes a great gift or a treasured keepsake for your favorite pictures.
** If you noticed I selected a three ring binder with pockets. Some people still use film and this is a great place to tuck those negatives into.
** Optional: I have made a lot of these and I like to personalize mine with a hand embroidered initial or name. Other suggestions are to use an already made initial or slogan such as "family."
There are so many things you could add to the front that exploring the possibilities is another adventure in itself. I hope my directions were precise enough that you can follow them and use your creative mind to the best of it's ability.
By gem from VA