December 23, 2009
0

found this helpful
As hard as it sounds, you will have to treat your dog like a new puppy. A crate will help. Once she wakes up from a nap, take her directly outside. Watch for elimination. If you don't get results in 5 min., take her back to the crate.m Repeat until she goes outside.
Once you have achieved a pattern of eliminating after sleep or eating, you will need to allow a little freedom in the house but only to a small area. We use the kitchen as it is hard flooring (easier to clean) and right next to the door out to the fenced yard. It is very important that you not allow her to eliminate on the carpet or other soft surface as that mimics grass to your dog.
Only allow freedom to other parts of the house once she is reliable in the areas she has been exposed to. Watch like a hawk while she is free in the house. Many who have used the house before will be pretty sly about sneaking off somewhere to go. I know this sounds like a lot of work, but the resulting peace of mind and life with a great companion is worth it!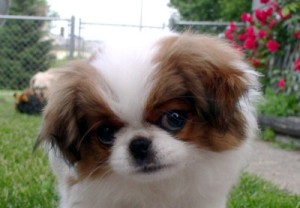 December 28, 2009
0

found this helpful
Small dogs are very hard to train. I've had 3 shiht-tzu's. All of them I've trained the same way. After the puppy stage, zero accidents. I agree your dog will need to be treated like a puppy. A crate does help if you have one.
Another way, is to put a leash on your dog and keep the leash on even in the house, attached to something like the bottom of a chair on a hard floor. Take your dog outside once every hour, if it goes, jump for joy and make it know that you a very happy. A treat is a great reward. They sense your feelings and do want to please you. It may sound strange, but, their waste is a "gift" to you.
Continue taking the dog out on the hour, even if it doesn't have to go. You have to stay with the dog, so you know how to respond. If it goes, treat, if not. no treat. If your dog poops, leave it there ( it's hopefully in your yard) if not, put it in your yard. Just to remind the dog, this is where it goes. Continue the hourly jaunt with rewards and in a few days, the dog will get the routine and your problems are over. Be patient, talk to your dog. They are usually very smart. Before you know it, it will behave as you tell it to.
My dog will poop on command. Pretty cool. Humans can't even do that!