Opps,the other answer is wrong, something went wrong. Just search for-
" reclaim landscape rock by building a home made "sifter". Good luck, hope this helps, let me know, o k ?
I find that this so called weed control fabric is no good,we bought a place with it in the flower beds with rocks on top of it, guess what? The weeds & grass came up big time so I just planted some flowers to choke out the weeds & grass, it worked.
I planted lot of the small old time glads & some canna lilies a friend gave me. They all multiply. I need to remove some of them. They are too thick. That's better than pulling weeds & grass, good luck.

June 13, 2009
0

found this helpful
Here is a photo of my 20 year-old Plus Compost sifter, it is made out of rabbit safe wire witch openings are 1 in. X 1/2 in and the wood is 2x4s, as you can see the corners of the wood has rotted out through years I just put L brackets on the 1 corner to hold it together and I use a small rake to sift the Compost through, the stuff that hasn't decompose stays on top, in your case you want to save the on top, if you noticed there is 1 end which no wood It makes It a lot easier to dump it or in my case scraping into another bucket .
There is a product called amaze that will stop any seeds from germinating that might blow into your rocks or flowerbeds and sprout.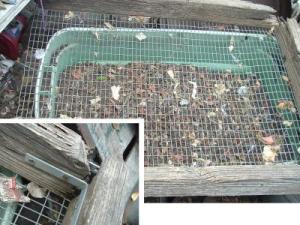 June 16, 2009
0

found this helpful
I'll have to get the handyman hubby to take a look. Thanks!

June 16, 2009
0

found this helpful
Amaze is sold at The Home Depot in the garden department, just ask them for amaze it's made by green light and they will point you in the right direction, it's a granule that you sprinkle on the surface it will last for 3 or 4 months and will not let any seeds germinate so if you plant your garden from Seed don't uses It until the plants are up and growing then it will stop any weed seeds from coming up.

June 16, 2009
0

found this helpful
I needed to reclaim gravel/soil from my driveway. I cut four boards 24" and screwed them together overlapping opposite corners. Then stapled cage wire from top, across to other top. Folded corners of wire and stapled it down. I then nailed a smaller board over the area that had been stapled and to cover the raw sharp edges of the screen .
It fits perfectly on top of my wheelbarrow, a bit heavy, next time will use 2x2's instead of 2x4's. This has worked perfectly for me.

June 17, 2009
0

found this helpful
I'm going through the same situation myself. I happened on my solution by accident. I'd gotten a couple of "flats" of annuals this year. I dumped some of my reclaimed rock onto one of the empty plastic flats. When I watered the garden much of the dirt washed off the reclaimed rock. After the rock dried I simply "sifted" the flat back and forth and the remaining dirt sifted off. It takes some time to process all of the rock, but I have time, but don't have money for a "project" build.