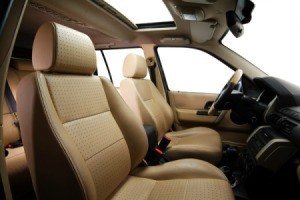 I have a 2000 GMC Jimmy and the seats are a beige leather, they have some dark blue ink pen on them from my 3 year old. The car is my sister's and is fairly new to them and I am in desperate need of advice. I tried a little soap and water and then I tried a little rubbing alcohol, but it is not looking good for me. Help.
Crystal

Answers:
Hairspray or Isopropyl Alcohol
Have you tried hairspray or isopropyl alcohol? Both have worked very well for me in the past. (03/05/2005)

By Dana
Anti-bacterial Hand Gel
Anti-bacterial hand gel works very well on ink stains. I've used it with great success on all kinds of stains including permanent marker. It works great without harming any surface I've used it on. (03/05/2005)

By Jean Donahue
Cheap Hairspray
If the ink is not a marker, spray hair spray on an area that won't show first to be sure it won't ruin your upholstry. The cheaper the better. Dab with hot water and soap after a few minutes of sitting untouched. You may need to do this several times to remove all of the ink. Markers will come out with a product from a janitorial supply company designed for the project. Each store caries different products.
Happy ink be gone. (03/07/2005)

By Julie
Aftershave
Aftershave works well. Personally, I used a generic brand with great success, and I've heard Adida's brand works well also. It got the black permanent marker off of our leather couch. (04/17/2005)
By Greg
Professional Kit
Aftershave, may work on a glazed finish leather, but not on a porous leather. Also, it can remove the colour if not applied carefully.

Leather is expensive and needs a professional kit when it comes to ink removal. Try this one: Leather Master Leather Care Kit with Ink Lifter (Affiliate Link) (09/24/2005)

By Ben Staerck
Cutter's Insect Repellent
We tried almost every household product we could find. Do not use nail polish remover though. It takes out the stain, but takes out the dye with it. We actually ended up having great success with Cutter's Insect Repellent (Affiliate Link). We sprayed it on and left it there for about 2 seconds and then wiped it off immediately. Do not spray and wait. It will lighten the leather slightly, but if you spray and wipe off after 2 seconds you should be fine. (02/29/2008)
By Jennifer
Hairspray
I just tried antibacterial gel on my car armrest and it didn't do much. I then tried the hairspray and it worked, but be very careful and leave it on for two seconds then blot off clean area with the antibacterial gel. I did not try removing the whole thing it is very faint. I just did not want to risk the hairspray damaging the leather. (03/26/2008)

By E
Methylated Spirits
I have had success using methylated spirits and a cloth on most surfaces, just not sure how it would go on a large area. Can it be tested in a less obvious area? (03/04/2005)

By Luci

How do I remove black ball point pen from a leather car seat?

Thank you.
By CHARLENE from Columbus, OH

Answers

July 12, 2005
0

found this helpful
I would like to know how to remove ink from leather upholstrey. My friends daughter has drawn all over the backseat of her vehicle (smiley faces, etc...) with an ink pen. Thanking you in advance.
Debbie

January 4, 2010
0

found this helpful
Use WD-40 it will take it right out

January 6, 2010
0

found this helpful
WD-40 works good.

January 4, 2011
1

found this helpful
I just had this problem ten minutes ago, hairspray worked, rubbing alcohol and wd40 did not. Acetone is suppost to do the trick.
October 17, 2015
0

found this helpful
Acetone ruined my leather took the color right out!!!
November 3, 2015
0

found this helpful
Fantastic thanks - tried the hairspray, pen came off with ease

July 23, 2016
0

found this helpful
You should not use acetone on leather. Acetone is a solvent & will remove color, why do you think they add it to fingernail polish remover!!
November 22, 2016
0

found this helpful
What type of hairspray work to remove ink?
Answer

this Question
A used printer ink cartage leaked through a plastic bag, it was stored in, onto the leather car seat. I have not touched the spot yet. It is the size of a quarter. It is on my front gray leather seat.
By Donna W
Answers

February 14, 2012
0

found this helpful
If it is dye-type ink, soap and water should remove the stain. If the soap and water doesn't work, it is pigment ink and you will have a spot. A mixture of Mr. Clean and bleach may remove it, but may also damage the leather.
An attractive seat cover of some sort may be your only option - doesn't have to look like a seat cover. I saw an MB with ruffled, lacy head rest and seat back covers - dark gray car, gray leather - very attractive.

coville123
Silver Post Medal for All Time! 433 Posts
February 14, 2012
0

found this helpful
Try hair spray, if not try a permanent marker the same colour as your leather go over it with marker.
Answer

this Question

I had my Jeep serviced and when I got home I noticed a blue ink line on the driver's door. Knowing it would do no good to ask if he did it I decided to try to clean it myself. So far I've used: 70% alcohol, hair spray, African Black Soap, mouth wash, WD-40 and virtually every other suggestion I've read on here and nothing has touched it. Is there anything else suggested?
Thanks.
By Sally F from Henderson, NV
Answer

this Question