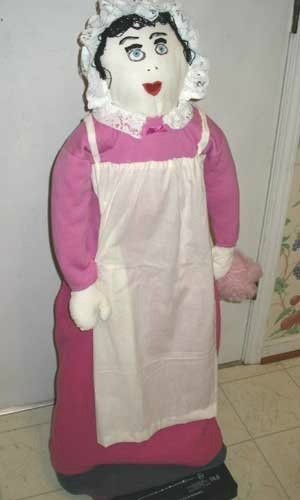 Are you someone that just doesn't have a good place to store your vacuum cleaner? You end up standing it in the corner, but hate seeing it there. I have the solution for you. Make a cute cover and no one will realize it's your vacuum cleaner. Even if you do have a closet to stick it in, this cover will keep off the dust.
Materials
You can use a variety of materials. You can use things you have or purchase material to make them. I usually shop the thrift store for items such as these.
child's long sleeved long dress or matching top and long skirt (or even a child's Halloween maid costume)
The dress or top and skirt needs to measure about 40 inched from shoulder to hem. Check the measurements of your vacuum to be sure. You can add a complementary material to hem to increase the length if needed.
polyester or other fiberfill stuffing
flesh colored material enough for two 7 inch circles (or even an old large rag doll head would work)
yarn for hair
a pair of white child's gloves or material to make to mitten shaped hands
fabric paint
thread
white apron or material to make apron
old white shower cap
2 inch eyelet lace trim
Directions
First make the head. The easiest way to approach this would be to have the head from a large old rag doll and then your job is simplified. But if you can't find one to use then make one.
Cut two seven inch circles of material for the face. Paint a face on one of them. Let the paint dry.
Put the material right sides together. Stitch 1/4 inch from the edge leaving a 1 1/2 inch opening on the top of the head. Turn the material right side out. Stuff the head. Stitch the opening shut. Attach yarn around the face for hair.
Then make the cap. If you are using an old shower cap just sew lace trim around the edges. If not, cut one circle 8 inches in diameter. Sew lace around the edges. Use a baste stitch around the inside edge. Use one basting thread to gather the cap. Attach the cap to the head.
Attach the neck of the dress or top to the bottom edge of the head. If you are using a top and skirt you will need to sew them together at the waist before proceeding.
Stuff the gloves and sew them to the ends of the sleeves. If you are not using gloves, you need to make hands.
Stuff the sleeves. Add stuffing to the shoulders and chest and back of the top. Attach it with basting stitches or hot glue. Leave enough room for the vacuum handle to fit into this area. The skirt area does not need to be stuffed.
Fit the doll over the vacuum cleaner and put on the apron. Hand-stitch the apron in place. You can attach a dust cloth or scrubby to one hand as was done for this photo.
Just lift the cover by the head to remove it when you need to use your vacuum. Slip it back over the vacuum to store it. Now you can tell everyone you have a maid!
By Kim
Read More

Comments

We live in a small apartment and really have no place to put away our vacuum cleaner. I know that they used to sell vacuum cleaner covers that looked like dolls or bunnies in long skirts, but I'm looking for a pattern to make one more modern looking.
By tru
Answers

March 8, 2010
0

found this helpful
I would buy some fabric that matches the paint on the wall in the room where you want to store the vacuum. Then, make a sack to put over it, kind of a loose slipcover or appliance cover. Put it in the corner of the room, maybe next to a dresser or large piece of furniture.
It should blend in to the point where someone would really have to be sitting in the room for some time to even notice it. Hope that helps.

OliveOyl
Bronze Feedback Medal for All Time! 138 Feedbacks
March 9, 2010
0

found this helpful
I like Ginnywest's suggestion. Make a cover that blends in to the surroundings. If you have draperies, a cover the same color as the drapes would be good. Just place the vacuum next to or behind the drapes. Dolls or bunny designs just call attention to the vacuum.

March 10, 2010
0

found this helpful
I was thinking you could make a basic frame. It could be from wood if you are so inclined or pipe or pvc pipe. Just a box shape like the deer guard in the top row here:
www.pvcplans.com/pvc-pipe.htm
Make it the height ( & width) of your vac.
Then make a fabric cover. I have seen them in mags but this is the closest pic example I could find right now. It can be one piece or two piece that overlap each direction like a " + ". They usually have either fabric ties or ribbons on the side so the flaps stay closed. (this pic has the ties elsewhere for rolling up.)
www.kitchencritic.co.uk/.../fashionista_appliance_cover_1.html
You could even put a solid piece of wood or something on the top to create a shelf to put a vase or frame or something.
The other alternative would be to put it in a corner and cover it up with a folding screen/room divider of some sort.
www.hgtv.com/.../index.html
www.bhg.com/.../
web.archive.org/.../screen.asp
www.hgtv.com/.../index.html

DeBushe
Bronze Feedback Medal for All Time! 179 Feedbacks
March 13, 2010
1

found this helpful
I use a king size pillowcase on my vac. Open the stitching a few inches on the end and slip it down over the handle. This keeps the vac dust free and looks pretty. You can get the pillowcases at thrift stores or buy one new.

March 13, 2010
0

found this helpful
These are great ideas. I wasn't really up for the doll or bunny idea, but that was all I had seen. Now all I need to do is find a couple of pillow cases in a creamy off-white color. :)

March 23, 2010
0

found this helpful
I crocheted a vacuum cleaner cover, a lady of bright colors, many years ago. I wasn't very good at crocheting and embroidering faces, and it came out incredibly ugly. The face had big bulgy eyes. But it fit the vacuum so well. It took me months to do, and I did not know how to rip things out and fix, so I left it. It stood boldly in my living room. When someone came in they saw it first thing. If they commented on just how ugly it was, the next holiday, they got a gift. I wrapped her up and gave it to the commenter.
The next holiday, I got a gift back from them, in a new box...and inside was always the same lady vacuum cleaner cover! No one would keep her! This went on for three years, I gave it away at the first nasty remark, and I got it back again, over three times, to different people!! It was truly funny!! I bet none of my recipients ever made a nasty comment about something in a person's house again. Needless to say, there is no pattern, and I doubt anyone would copy it. Oh, yeah, 40 years later, I still have the darn thing!
Answer

this Question