EllenB
Gold Post Medal for All Time! 858 Posts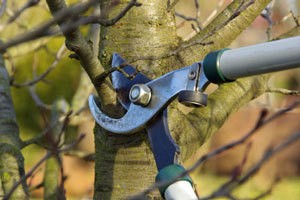 Knowing what and when to prune is essential to maintaining a healthy and aesthetically pleasing garden. Here are some general guidelines on what to prune and when to prune it.
When to Prune
Fruit Trees:
Fruit trees should always be pruned before buds start to swell, so usually in late winter or early spring. To maintain shape and encourage air circulation within the canopy, remove any branches growing inward or those growing vertically.
Evergreen Trees: Evergreen trees seldom need pruning. If you prune, wait until after the tree has completed substantial new growth, or you may end up having to prune it again-usually late spring or early summer.
Deciduous Trees: Deciduous trees also seldom need pruning. If pruning is needed to maintain shape, it should be done in mid to late winter while the tree is dormant.
Berry Bushes: Berry bushes are usually best pruned in late fall or early winter. Regular pruning to maintain shape can be done throughout the season, but is best done immediately after harvesting to minimize production loss.
Evergreen Shrubs: Evergreen shrubs don't flower, but some produce cones. Typically, it's best to prune evergreen shrubs between late winter and early spring-after they produce cones.
Deciduous Shrubs: Let the flowers guide you. It's best to prune shrubs back immediately after they flower (usually late spring or summer).
Rosebushes: Older shoots and those turned inward should be pruned by late winter-early spring at the latest. Cut remaining 4 to 8 canes to a length of 12 to 24 inches. Ideally, cuts should be made within an inch above a bud or strong shoot.
Distinguishing Between Plant Types
Fruit Bearing:
for pruning purposes, defined as any tree or shrub that bears fruit
Deciduous: any perennial plant, tree, or shrub that loses all of its foliage for part of the year
Evergreen: any tree, shrub, or plant that bears foliage throughout the year
Types of Pruning
Maintenance Pruning:
Regular maintenance pruning is usually done annually in order to maintain the general shape and hygiene of plant.
Formative Pruning: Formative pruning is a technique usually reserved for young plants, plants that have outgrown their space, or for plants remaining after another plant in close proximity has been removed (to prevent growth from looking lopsided). Essentially, it's pruning to train or correct shape.
Pruning for Rejuvenation: Occasionally, it's necessary to prune old shrubs to renew their vigor. Some shrubs respond well to hard pruning, while others are better rejuvenated over a period of 2 to 3 years. If your shrub has not been pruned regularly, go slowly and space pruning over several seasons. Select no more than 1/4 to 1/3 of the oldest wood in a single season. After pruning, feed plants and keep soil moist and well mulched. Generally, plants that grow more than 12 inches in a season usually respond well to hard pruning. Plants that grow more slowly (less than 12 inches per year) should be pruned more gently and only when necessary.
Pruning for Pests and Disease: Just like it sounds, this type of pruning is done in response to the outbreak of disease or pests.
Shrubs That Respond Well to Hard Pruning
butterfly bush (Buddleia)
blue spirea (Caryopteris)
common smoketree (Continus coggygria)
deutzia
eucalyptus
forsythia
fuchsias
hydrangeas (some)
mock-orange (Phiadelphus)
red stem dogwood (Cornus stolonifera)
roses (some)
rubus (some)
St. John's Worts (Hypericums)
tatarian dogwood (Cornus alba)
willows (some)
Shrubs Better to Prune Lightly*

Aucuba japonica and cultivars
barbarry (Berberis)
boxwood (Buxus sempervirens)
cotoneasters
daphnes
magnolias
potentilla fructose cultivars
prunus (plums, cherries, peaches, apricots, and almonds)
rhodoendrons
viburnums
yew (Taxus baccata)

*These can be pruned hard, but often take years to recover.Pruning Tips

Think before you prune. Each cut should enhance the overall shape of the tree or bush. This means cutting just above an outward-pointing bud so that new shoots do not emerge pointed inward where they will slow down air circulation and receive less light. Shrubs with buds opposite each other (rather than staggered) should be pruned level as close to the buds as possible.
Always use top-quality pruning shears with sharp blades and sturdy handles. Dull blades will crush or tear branches. Look for shears with parts that are easy to remove and sharpen. Hand shears should feature a safety mechanism that keeps blades safely closed when not in use.
Be prepared for some losses. If new growth fails to emerge on a plant a month or two after pruning (except when pruned in the winter), it may have a weak root system and or disease problems, and may never come back. Consider shopping for a replacement.
When pruning trees, leave the branch collar intact when removing limbs. The branch collar is the swollen area at the base of the branch, the point where one branch arises from another (or the trunk). This area is like a security door. It stores important protective chemicals that keep diseases from invading the parent limb. Leaving this intact when removing limbs will help promote faster healing.
When concerned about the hardiness of a plant, it's best to wait until the end of winter to prune it. Intact branches will trap air over winter, creating a microclimate to help protect the plant.

Read More

Comments