Surprise Easter guests with this large carrot-shaped towel duo. Sure to lure and bamboozle Peter Rabbit.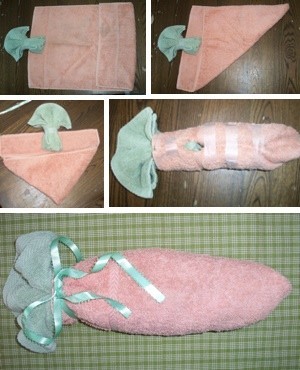 Approximate Time: 20 minutes
Supplies:
clear tape
1 orange hand towel
1 green wash cloth
green (or white) ribbon for bow
Lightly decorative towels with plaid or other subtle designs, mainly orange or green, can be used for accent.
Instructions:
Green Leafy Part: Lay green washcloth flat with the brand tag, if any, facing up. Fold bottom edge up, about 1-2 inches below the top edge.
Fold the green washcloth in a fan-like motion 5 times. (Should look like the picture shown.)
The base of the folded green washcloth is the edge that doesn't show the two layered edges of the washcloth. Tape around the entire base of the folded green washcloth to secure this leaf-like part, so that the layered edging fans out nicely. The top of the carrot is done. I face the soft edge folds of the green washcloth out.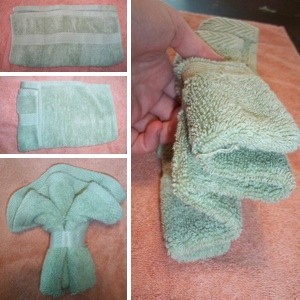 Orange Carrot Part: Lay the orange hand towel flat with brand tag, if any, facing up. Fold the bottom width end of the towel upwards about 5 inches.
Still working with the width end that is folded, take the bottom left corner of the orange towel and fold to the right, with the top 3 inches of the unfolded towel exposed. Repeat on the right folded corner, folding leftwards this time. After both folds, the bottom of the orange towel should have a wide triangular point, as shown.
Tightly roll all of the left side of the orange towel to the right, to the middle of the towel, stopping when the vertical edge of the rolled towel lines up at the bottom point. Secure in place with a 3-to-4-inch piece of tape at the middle of the length of the towel, taping from the left roll to the unrolled right part.
Roll the right side of the orange towel leftwards, similar to step 6, taping across the first piece of tape, from the new right rolled part to the left rolled side with a 3-to-4-inch piece of tape.
Tape in 3 more places, with 3-to-4-inch pieces of tape, along the length of the carrot-shaped towel to join the rolls.
Assemble The Carrot: The front of the carrot is the smooth side, without any trace of tape and rolls. The front of the leafy part has just soft folds. Slip the green leaf-like washcloth into the orange carrot-like hand towel, fronts and backs matching up.
Tie the green (or other colored) ribbon around the carrot, making a bow. Brown, white, orange, and a combination of different colors and types of ribbon would look nifty, too. Place your bunny's treat carrot towel in the guest powder room, in the kitchen, or on a serving table to amuse your guests.
Happy Easter!
By Erin R. from Seffner, FL