August 16, 2007
0

found this helpful
Salvation Army Store has some lovely pieces. You could also try furniture outlets. My husband got some really good deals at places where we found stores going out of business. He would say "You know that won't sell. Why not let me have it for X number of dollars." You'd be amazed at the number of times that worked! Freecycle is also a good way to acquire gently used items. I think once you join you have to give something away before you can start getting things.
August 17, 2007
0

found this helpful
If you have a Kirkland's store in your area. They have really good sales.
By bambi2003 (Guest Post)
August 17, 2007
0

found this helpful
Well, If you want new things that are very nice and not that expensive, you have to check out Ikea. http://www.ikea.com/ms/en_US I don't know how far you are from Portland, but they have a store there. They keep their prices low, because you put the furniture together yourself, but not to worry if you're not handy they will put it together for you for a small fee. I furnished my whole house - 3 bedrooms, living, family, kitchen, bathrooms, and furniture for my porch all for about $3000.00, and we didn't get the cheapest stuff they had.
That was almost 4 years ago and everything still looks beautiful. I have 5 kids so you know everything has taken a beating. Ikea is my favorite store by far! I bet anyone they can't walk out of that store without buying something. While you're there, you should eat in their restaurant. they have the best Sweddish meatballs for only like $3 a plate and if you have kids no worries the kids meals are only $.99 AND they have a play room for the kids so mom and dad can shop in peace:-) You should really check it out. Hope all this helps you
August 17, 2007
0

found this helpful
I'm here in Washington and I make use of Value Village a lot. Are they in your area?
August 17, 2007
0

found this helpful
I like Old Time Pottery, if you have one in your area. Also, http://www.lakeside.com has some pretty inexpensive items.
August 17, 2007
0

found this helpful
I love Collections Etc. Its a catalog and you can see the stuff online. If you dont want to order the stuff online, you can request the catalogs (free).
Everything in there is under 20 bucks and i love their stuff!
By Chrisam2 (Guest Post)
August 17, 2007
0

found this helpful
They have really inexpensive stuff in a Christmas Tree Shop Store in the bigger cities. I see the same stuff in LTD books and ABC catalogs. You don't have to pay the shipping fees either. By the way, the Christmas Tree Shop isn't full of Christmas stuff. It has everything you can imagine. There is stuff to decorate your outside also.
August 17, 2007
0

found this helpful
There are so many places, you can try a dollar store, yard sales, auctions. You can be creative and make things yourself with crafts. You can do a lot of things yourself with bows and fans for the walls or maybe even eucalyptus bunched up and spread apart on the ends and finished with a pretty bow in the center of it..
Wreaths with your choice of silk flowers on it and a pretty bow.
August 20, 2007
0

found this helpful
Try TJMax or Ross Dress for Less
By Kathy (Guest Post)
August 23, 2007
0

found this helpful
Hobby Lobby might be a place to check if you have one in your area. They usually have decor and small pieces of decorate furniture. The best part is that they run specials each week and sometimes their furniture categories are 50% off!
By Monica (Guest Post)
August 26, 2007
0

found this helpful
My favorite stores for decor - TJ Maxx, Marshalls, Ross, Pier 1, and Target. It's hit or miss at those stores, but you can get some really nice things. For furniture, my favorite places are Target's ONLINE selection, which has a lot more variety than its stores and Value City furniture. There are a items there that definitely don't look like they come from Value City. Or you could splurge and buy an expensive piece, which will make the rest of your decor not matter as much.
I spent $2,000 on my sofa, which gave me leeway with other items. I've attached a pic. I got the lamp for $50 at Marshalls, the picture frame for $25 at Target, and the print for $25 at an art show. I think the real secret is not to try to finish a whole room in a couple of weeks. You'll make compromises and spend too much money. Let your purchases unfold over a few months and enjoy the shopping (and returning).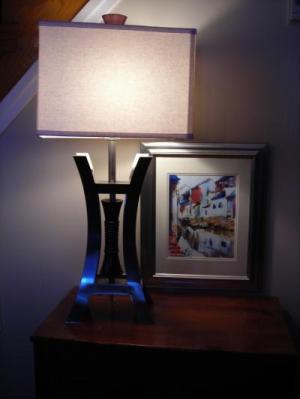 August 26, 2007
0

found this helpful
One more suggestion. Don't buy anything now.
Xmas is coming up and you may find yourself gifted with more knicknacks. Especially if someone asks you what you want.
October 20, 2007
0

found this helpful
Thanks for all the ideas ~ I will be checking some stores and websites out
Mindy
October 21, 2007
0

found this helpful
I too LOVE Collections Etc They have millions of items for every room & they have specially themes too. Mine is the Lodge look. Go on line start your member account its free and request a catalog my mail.Then do not buy until you get a couple they are free. Because some of the catalogs have a code number on them for shipping for $1.00 no matter what you buy in one purchase. Then use your coupon number from that catalog on line for your purchases.
The items do not have to come from just that catalog either they can come from anything on the web site too. Best of all keep that book and coupon number and reuse it each time you order it does not expire and can be used repeatedly.
I also like http://www.terryvillage.com
If you have a BEN FRANKLIN Store in your area they have so many items already done for decorating in different themes or individual craft items top make your own items & themes; like making wreaths or picture frames baskets & more. Also if you have a Michaels in your area you have that choice for ready made crafts. Candles are a beautiful way to decorate. Using them in groups of sizes on serving trays