July 24, 2003
3

found this helpful
Best Answer
Several weeks ago, I posted asking for help with restoring the shine to my counter tops. I took the advice of a respondent and used auto compound. I used a product with light grit and they turned out beautiful. After cleaning them I waxed them with a car wax. The waxing will have to be repeated about every 3 months. Thanks you for this excellent advice.
- Faye
By mgb (Guest Post)
May 21, 2007
0

found this helpful
Best Answer
You may want to reconsider the auto wax on your kitchen countertops. There are chemicals and toxic compounds in car wax that may be safe on the surface of a car, but may be dangerous if it comes in contact with food on a kitchen countertop.
By Jenny (Guest Post)
January 15, 2008
7

found this helpful
Best Answer
I clean homes for a living. One of the homes I clean the woman insisted I wax her shower and countertops with a product called Gel Gloss (Affiliate Link).

At first I thought this was the best way to punish your older child instead of grounding them. My point being that it's not the easiest thing to do.

That was 10 years ago and I've learned to appreciate the difference this product makes. It makes water pill up instead of running and you are able to wipe off the soap scum, makeup spills, etc. with ease and the shine is unreal.

You can pick up Gel Gloss (Affiliate Link) at Home Depot back where they have the sheets of counter top or, if you're an online junkie like me, you can get it on amazon.

The price varies but you're gonna pay in the neighborhood of $7 for a can. You can choose the spray or the old fashioned wipe one like car wax. Both work equally FANTASTIC! If anyone has another cleaning question please ask. I like to use my years of cleaning for good and not just wonder what I've been doing for the last 10 years.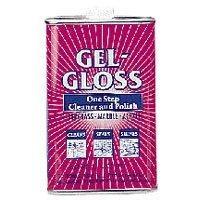 July 15, 2003
0

found this helpful
To renew the shine use a rubbing or polishing compound available at automobile parts stores. It is used on scratched oxidized automobile finishes (paint) so try some on an out of the way place and see what happens. It's worth a try.
- Susan