June 16, 2009
0

found this helpful
Hi Woodysgood,
I found a really good website for you that lists the problems, possible reasons and pictures.
ipm.ncsu.edu/.../cucumber.html
from this it looks like it could be from poor pollination - apparently honey bees are essential for proper growth, the other thing it could be is a fungal infection such as scab or belly rot. In this case you would need to use some sort of fungicide.
The other thing it could possibly be is that your cucumbers have a cucumber mosaic virus, what do thier leaves look like? are they yellowing at all? do they show a mosaic pattern?
Have you noticed any bugs hanging around the plants such as aphids? Aphids are well known for transmitting many viruses.
This site may be useful:
vegetablemdonline.ppath.cornell.edu/.../Viruses_Cucurbits.htm
If it looks like a virus, your best bet it to cut the whole lot down and get ride of it, you cant use virus infected plants for compost either as they will still carry the virus.
The picture I have uploaded is of cucumber mosaic virus which I think could really be your problem but Id need to know more details about the leaves before I decide.
Cucumber mosaic virus is a BIG problem as the disease can spread to farms growing cucumbers or any curcubit so if it does seem to fit the symptoms you definitely need to destroy it. Good luck! Hope to hear more about it soon! :)
P.s the other reason I worry about the virus is because your cucumbers are bitter.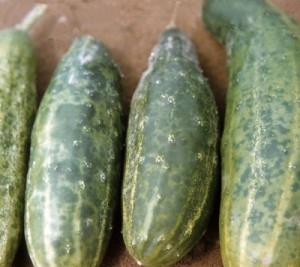 June 20, 2009
0

found this helpful
I was just wondering. Do you have them climbing on a fence or are they just laying on the ground. They look like the spots a watermelon gets from laying on the ground. My mother and everyone else I know who used to grow cucumbers always grew them on a fence and let them climb on that.
I have some although their not in the ground yet. I'm going to get 2 post and staple chicken wire to it and let them climb on that because I don't have a fence. Maybe you could try that and see if it helps.
August 17, 2013
0

found this helpful
I too have small victory garden from decades of learning. Every year you learn something new and growing in Canada especially in Ontario it is near impossible. 2013 as of 10 years prior, ON Gov't leader decided he's smarter than all by
breaking laws, now he's near jail time. I mention this because, he believes food comes from a store (not grown)
Yellowish white spots; disfigured cukes; etc are different probs. Spots are generally means it is touching a damp area; disfigured is sign of poor pollination; white spots around cukes prickles is over watering or not enough.
Check the vine for cukes on vine closest to root; if no cukes then its over watering; if there are - the closest to root is taking the water or something is wrong.
Same goes for rotting/fuzzy duke on vine, pluck the good fruit even if it is a little small; rot throw out and lay off watering for a bit. regular observation is important, mother nature has much to say, if only someone will take time to listen - let alone decipher. Congrats on listening, now decipher.