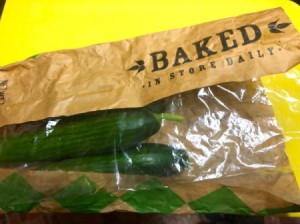 Persian and English cucumbers are my absolute favourite from the entire cuke line, but they aren't the cheapest. In order to keep them from going mushy, it's best to keep them as dry as possible. I find they are very happy in paper bags.
I like using my French bread bags that have windows so I can see them. I keep them far away from items like onions, melons and apples because they contain a gas that speeds up their aging process when in contact.
In cooler climates, it's best to keep cucumbers out of the fridge, perhaps right on the counter.
If you live in warmer areas, keep them in the fridge but not in the back or on the bottom as these are the coolest areas. You really don't want your cucumbers to be in places under 50 F.