June 6, 2008
0

found this helpful
Google "homemade soap" and you will get dozens of free websites. If you want specific kinds, google "melt and pour soap recipes" and you will be linked to others, finding some you can check out at the library. Some are made in molds, some in bricks or more comonly known as "slabs". Also, browse the local farmers/craft markets in your area and see if you can get a feel for someone who makes it. It might be easier to buy some for 3.00 than to make your own. Good luck!!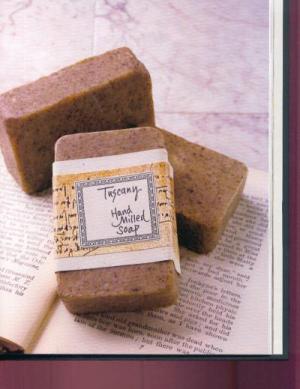 June 6, 2008
0

found this helpful
www.google.com/search?sourceid=navclient&ie...
Quite awhile back I bought several glycerin soap making kits that were reduced 50% & loved it. They came with loofah sponges that were placed into the mold & then the 1/2 circle soap was sliced after the soap cooled so each piece of soap had a nice embedded loofah.
I have never & will never make soap that contains LYE. I think that's horrible.
Aside from having to be around it while it's cooking I don't know anyone with any brains who would actually use anything like it on their face. Maybe I am paranoid but...
By Marlene (Guest Post)
June 7, 2008
0

found this helpful
All "real" soaps are made with LYE. The lye neutralizes in the soap making process. It has always been made that way. The chemical laden soaps that you buy in the store are the ones that wreck your skin.
As for a recipe for soap, I have many, but I strongly suggest you read up on soap making, before you try it. There are many good books out there. One in particular the I have used again and again is "Soapmaking" by Sandy Maine". Hope that helps!
By (Guest Post)
June 7, 2008
0

found this helpful
Do find a good book on the subject. "Soap" by Ann Bramson is one very good one. It gives you the whys and wherefores of making the stuff. Many recipes make around 13 pounds at a time. It takes time, but the reward is huge. You can save your own leftover grease (beef, pork, chicken, olive oil, etc.) so all you have to buy is some lye and fragrance, and maybe color. You'll need a plastic or stainless steel bowl, two dairy thermometers, a scale and a half-gallon jar; also separate wooden spoons just for soapmaking.
Since there are only two of us, I make a batch every couple of years. It cleans beautifully, and no, the lye is not a danger. It is not active when the soap is properly cured. It's actually kinder to your skin than detergent bars. I have not bought a bar of soap in about 15 years now, and my husband and I love it. Do give it a try!
By Amy (Guest Post)
August 31, 2008
0

found this helpful
I have been making soap for over 20 years. All SOAP...real soap is made with Lye. Has been made this way for thousands of years. You have to know what you are doing and always use caution when working with lye.
I have several recipes too. But I think you should read about the process before. Then start in small batches. Perhaps even starting with a M&P (Glycerin) or rebatching soap. Rebatching is taking raw soap that has already been prepared. Breaking it down by hot process method. It allows you to make REAL soap but you will not have to work with active lye. You can purchase rebatching soap in block form or already shredded. I would get it shredded as it is easier. Try ebay. There is 2 great rebatching sellers on there. You will also need coconut oil, fragrance and any other add ins. You should always be careful what you add in.
Have fun