February 29, 2008
0

found this helpful
To keep your area rug in place you can buy rug liners meant to go between a rug and a hard surfaced floor. Both Lowes and Home Depot sell them.
By (Guest Post)
March 1, 2008
0

found this helpful
A very inexpensive solution might be to purchase gripper socks (just like the footies they give you in the hospital to avoid slips). They are likely on clearance now as they seemed to be more of a seasonal item in the sock department. You may even want to purchase several extras and keep them in a cute baskets by your exterior doors for guests. I know I would be grateful to any hostess who might offer them as opposed to a slip and fall.
Do explain the reason for the offer first however, as if you hand a guest gripper socks without an explanation, one might assume you care more about floor protection than safety. Also, don't wear panty hose or nylon socks as they are very hazardous on hardwood. I learned this the hard way walking down our finished wooden staircase.
In the summer, buy everyone in your household a pair of cheap flip-flops for indoors only, so you don't soil the bottoms of the soles,outdoors or just go barefoot. I do not have a wise answer for summer guests except to offer that you don't mind if they go barefoot to avoid slipping. Hope this helps. K
March 10, 2008
0

found this helpful
Hi, i apologize in advance if this seems like spam, but I recently invented a product called GRIPPIES that totally solves your problem... (it's in my profile, www.grippiesonline.com/home.html) When adhered to the bottoms of socks, tights, stockings, whatever, GRIPPIES makes a non-slip surface much like those pre-made grip socks, only they're better--because they provide traction on slippery floors, but are not too sticky to slip into a shoe comfortably.
We've been getting great feedback so far, if anyone would like to try it, go to the site and please use coupon code MOTC10 for 10% off 2 or more sheets of GRIPPIES. Any feedback is so helpful as we are always trying to improve upon our product. Thanks!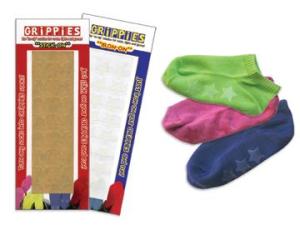 By June (Guest Post)
March 28, 2008
0

found this helpful
My elderly mother had her hardwood floors polished with Armorall by mistake. Talk about slippery! this happened almost one year ago. She is managing with rubber soles but the poor dog, who is also getting on, is slipping and falling all over the place. We've tried vinegar without any success. Any suggestions?
By Susie (Guest Post)
April 3, 2008
0

found this helpful
Dear All, I have product which calls add a grip, quality made proven of Australia. It is simply mop over on wooden floor once a week.
For more info, please visit www.floorsafe-indonesia.com or you may contact us at info AT floorsafe-indonesia.com
April 3, 2008
0

found this helpful
HI,
I have good product which is simply to be installed. It calls floorsafe add a grip. It is specially made to prevent slippery problem on wooden and vinyl floor surface.
or visit the website www.floorsafe-indonesia.com