May 25, 2007
0

found this helpful
I think you've overstated the case on ALL terriers. I've had 3, and never had a problem with aggression. They were all born to love. My little Lakeland terrier in particular would roll his eyes in disbelief if he were still here to read your post. (I exaggerate only slightly. Terriers are very smart, as you must know.)
I've been bitten 3 times by a neighbor's black shepherd, and have been charged by the dog 7 times. And the dog has not an ounce of pit bull in her.
But I certainly see your point - pit bull terriers have often been bred to kill, and that is a terrible thing to do to any dog. Good obedience training, done well, is of paramount importance with any dog who exhibits aggressive behavior, pit bull or otherwise. And most aggressive canine behavior can be controlled by a good, caring owner who sees to it that the dog is properly trained.
Our community has an ordinance for wolf hybrids. Owners are required to have a $150,000 insurance policy covering the wolf-dog. I would like to see this raised to $1 million, extended to all "dangerous dogs" (i.e. those who have bitten more than once) and I would also require the owner to have a fenced-in exercise area for the dog that the dog cannot escape from.
It's also worth noting that many property insurance companies will not insure so-called "aggressive" breeds, e.g. pit bulls and German shepherds. Your insurance agent can tell you which breeds your insurer does not cover. And if the dog is initially covered, and bites and bites and bites, the insurance company will eventually cancel their house insurance. Try keeping your mortgage without house insurance. Or try renting with a dog that bites, and see how long the landlord puts up with it. He is liable too, if he allows the dog to be on his premises.
For more info on laws re dog bites, you can check out www.dogbitelaw.com.
By guest (Guest Post)
May 27, 2007
0

found this helpful
I agree that terriers are a strong breed and need a strong leader to follow but as for ruthless and natural born killers i would have to disagree. It is the human animal that turns a dog in to a killer.
By guest (Guest Post)
November 20, 2007
0

found this helpful
Please visit http://www.badrap.org "NILIF" or Nothing In Life Is Free is a very successful method to establish dominance that doesn't involve HITTING your dog. Resorting to violence is never an answer for professional/great trainers. When was the last time you saw a Killer Whale trainer beat Shamu? That's because Pure Positive Methods work! Especially for intelligent animals and the people who work WITH them.
By guest (Guest Post)
January 29, 2008
0

found this helpful
We have a pitbull that wondered into our yard over 8 years ago and he quickly found his place in our pack with 3 other dogs one male (Black Lab) and two females a queensland and queensland mix (All neutered or spayed of course). He is the most submissive and polite dog of the bunch. He loves our neighbor kids and a few times they have fallen asleep with him on his bed. I have worked as a veterinary technician for 11 years and I have seen the occasional pit bull that cant be trusted but more often than not they are one of the most friendly breeds we work with. Their brave and confident nature serves them well in stressful environments where other breeds become aggressive because of thier fear. This actually makes them one of the least likely patients to bite when being handled by strangers in unusal ways. Yes, they can be stubborn and do need you to establish your dominance but that should NEVER require striking them EVER.
April 19, 2008
0

found this helpful
I have a five month on Pit Bull Terrier. She is a very submissive dog although I don't want her to be Cujo I do want her to not be scared of every noise she also will not bark at people coming towards the house. My other dog will alert us to anyone coming near the house but the pit bull does not bark and if she does then she will bark then run away. Do not mistake me in no way do I want a dog that scares everyone but I also don't want a dog that may get stolen in the future because she is either to friendly or to scared to alert to strangers in the yard. Please Help Someone!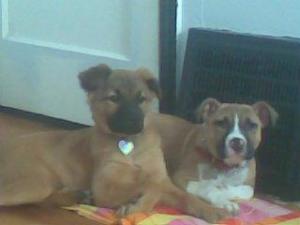 August 3, 2008
0

found this helpful
I have a 5 month old Pitbull/Lab/Rott mix and she chews on everything including my hands and hair and every other limb. I've tried my best to get her to quit biting, I know she doesn't do it aggressively she's playing but I don't want this to grow into aggressive behavior. I've held her mouth closed and firmly said no, she hates water so I've taken a spray bottle and sprayed her when she does, and I've put her in time out but I really don't know what else to do. She is very outgoing and excited constantly she doesn't bite nearly as much as she used to but it is still a regular activity. And she's also knocked down m 2 year old nephew. I know she was playing but that is not ok, I have to find a way for her to understand how to play nicely, not to bite and be very gentle with children. If anyone has any advice please let me know.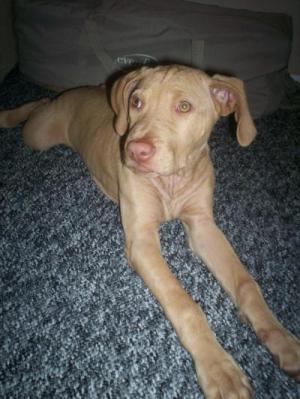 December 16, 2011
0

found this helpful
I have recently adopted my brother's St.Bernard/Pit bull (Who was on here under pet essays - Tex). My brother passed away and Tex needed a loving home. He is a bit clumsy and has a tendency to paw at us and it does hurt. I have shown him that I am the dominant one and he knows I am boss, but how do I stop him from pawing at us and jumping up without us having to be aggressive with him.
Even though on the other hand our cat Molly has him running in fear every time she moves his direction. She has definitely showed him she is boss and has never laid a paw on him. I have to admit watching her chase him down the hallway is quite entertaining.
April 3, 2014
0

found this helpful
I have also found that the swat to the butt with the no works good now I'm trying to break the nipping. My blue nose is 5 months and is very sweet, but still gets a little rough when playing. Also trying to teach her cats are fragile she doesn't try to bite or chew on them but she gets so excited that she steps on them and they don't like it.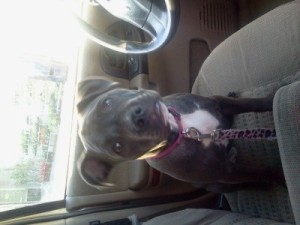 December 17, 2015
1

found this helpful
A special trait of pit bulls is that they are always alert to whether or not everything is okay. Never, EVER swat, pat on the rear, tap on the nose, or otherwise hit a pit bull. They will not learn anything from it because there is no similar disciplinary action among canines. All it will do is make the dog wonder when it is going to come at them from out of nowhere again. In other words it will make your dog unable to trust you. And if your dog can't trust you, then he can't see you as a leader. If your dog doesn't believe you are a leader, eventually he might just prove it.
January 3, 2017
0

found this helpful
I just got a pitbull from a friend that moved into an apartment that doesnt allow dogs. He's a good dog but he constantly whines when I have to put him outside. I have 2 Shepard-Lab mixes and they dont whine. They actually attempt to comfort him and I know that he's comfortable with them because he plays with them non-stop in the the house. I know he has everything that he could possibly need when he is outside: food, water, toys, bones, big fenced in back yard, and company. So I was wondering if you have any tips to get him to stop whining whenever he is outside? I would like for all my dogs to feel comfortable inside and outside of the house. Any advice would be greatly appreciated.