October 12, 2009
0

found this helpful
I also have a ton of earrings and have had the same problem with where to keep them all. But I just came up with a great solution! I got an old window shutter from a thrift store for $5 (new ones can cost $20 - $30+), spray painted it black (but you can use whatever color your heart desires), and hung it on my bedroom wall upside down (with the slats pointing up instead of down).
I just hook my earrings right onto the slats of the shutter! It works GREAT, and looks really cool! :) You can even decorate the shutter more if you want to, by painting designs or gluing fun little do-dads around the edges. But I think the earrings are enough decoration all on their own. Have fun! :D
October 13, 2009
0

found this helpful
Maybe a piece of window screen? Possibly in a frame or over a rod or hanger. Hang it on the wall and just poke the backs through the openings in the screen. Good way to decorate the walls and increase your storage space too, I think.
October 13, 2009
0

found this helpful
A great way to hang your earrings, especially if they are posts, is to just hang up a sheet of plastic canvas. It already has holes, and they are good sized, so it's easy to put the earrings in, whether posts or hanging.
Also, I have used one of those folding cup holders, and also a tie rack, to hang necklaces and bracelets on.
October 13, 2009
0

found this helpful
I had the same problem with chains & bracelets, so I just bought some small cup hooks & attached them to a wooden coat hanger. As I'm renting, I attached the hanger to the wall with removable hooks. I can see what I have without the tangles now. You can use hooks for your rings as well, even if you only have a few. You can paint, or cover/wrap the hanger/s with ribbon, etc. to 'pretty it up'.
If you have studs, you can find heaps of containers in craft shops for separating small beads. These will keep your studs separate & easy to see.
I like the idea of canvas, however I'd use a cross stitch canvas & put it inside a picture frame. The size would depend on the number or studs you need to hang. You can also buy pretty colours of the cross stitch canvas ..with varying sizes of holes. You could even decorate the frame & the wooden hanger to match or you could use the wooden picture frame to screw the cup hooks into, and have all your jewelery together. I think I might use this idea for myself now that I've thought of it! :-))
I find that I wear more of my jewelery now that it's so much easier to see. Have fun. Wendy
October 14, 2009
0

found this helpful
A Chinese restaurant near me has bracelets displayed for sale near the cash register. They have them slid over a rod that is hung on the wall.To get one off they lift an end then put it back down when finished.
My alt to that idea is 2 medium size cup hooks spaced accordingly to hold rod or in my case, a piece of bamboo I took from off a $1 place mat. This leaves me a lot more bamboo rods which I now have 4 uses for!
towel rack (once in bathroom)
espresso cup holder (2 times in my kitchen)
& the jewelry.
Not only are you using less cup hooks,you are making less holes in your apartment wall! That has to be a plus in the eyes of someone lol The towel holder can be replaced someday when I have extra bucks! (or not!) ;)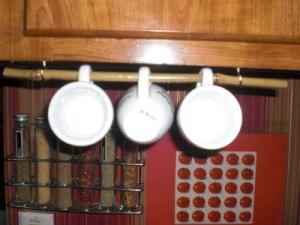 October 14, 2009
0

found this helpful
buddyzmama :: I like the window screen idea - it could be secured into a picture frame & (also) propped up on the dresser or atop a chest, OR use an actual screen window -- for shabby chic the old wood framed ones
artygirl :: I like that idea too!
I have a roll of cork out in my shop
but a less expensive place is (again) the everything a dollar type places.
If not cork then the 1/4" foam.I got some recently for $1 that are shaped like puzzle pieces - I believe it was at Michaels.
and what about mini suction cups with hooks used often for sun catchers? If you have pretty glass beads they might look pretty shown off in the window catching the light!
Another idea I have seen recently is to get a cool looking branchy twig from outside - one with lots of twigs & either set it in a favorite bottle with sand or rice to steady it & hang a few things on it
or mount the bottom of the stick in a little play dough (which will harden) or a cup of pebbles in a clear jar or vase.
I'm sure there are more ways to stabilize the twig.
like paper mache' or you could even fix it on a wall & hang items that way! How about marbels to set the twig in or the little round scented pearler balls? How exciting!LOL (this is my 3rd or 4th edit! Your question got me thinking! Thanks!)
October 15, 2009
0

found this helpful
I buy the embroidery thread boxes with the dividers in them. I can see through the top and the compartments can be as large or small as needed. They are stacked on a shelf in my room. I just look through the top to find the earrings, necklace, bracelet, and watch I want to wear.
October 15, 2009
0

found this helpful
The top drawer in my chest of drawers is shallow and not really good for much so I lined it with foam rubber covered with black fabric, and stick the posts of my earrings in that. I do have some like hoops, etc., that just lay there, but being it isn't a hard surface they don't slide together and get mixed up. I keep a small box in the drawer with the backs for the posts in it.