August 7, 2009
0

found this helpful
It's very hard especially because shes not a puppy any more, and it would depend on what shes barking at.
August 8, 2009
0

found this helpful
My only thoughts are to keep a spray bottle handy to give him a little spray every time he barks, and do this every time.
August 10, 2009
0

found this helpful
Get an aluminum can & fill it with some pennies, screws, beans, etc. When your dog barks shake the can & say NO. This will startle the dog & make them stop barking.
You can also use a spray bottle & squirt the dog in the face when it barks. Again, it will be startled & stop barking. Eventually you won't even have to spray the dog. Just pointing the spray bottle at the dog will be enough.
August 11, 2009
0

found this helpful
Try teaching her to bark on command. Then have her bark then reward her for stopping. Example: Speak (Woof) reward, then when she barks say "Quiet" then reward her for stopping. It will take time but it will work.
August 11, 2009
0

found this helpful
I agree with putting barking on command ("Fluffy, Speak! Good dog! Treat) What happens is that you have now made this something that the dog looks to you for permission to do. Also, if the dog is rewarded for a behavior it is less likely to do it without a reward. It may sound odd, but it really is effective, you just have to be persistant in your training.
Even though it sounds easier to just spray it with water when it barks (which certainly doesn't hurt the dog), putting barking on command is a much more positve way to accomplish this, and besides, you even have to be consistant with the spray bottle, so why not go with the more positive and effective way. Good luck!
August 11, 2009
0

found this helpful
If you didn't want a barking dog, why did you get a dog at all? If she only barks at certain times, then you don't have a barking problem. The poor dog has an OWNER PROBLEM!
Dogs are supposed to bark! That is what they do! They do it in order to communicate! There may be someone at the door or in the yard, she may need to go out or come in, she may need food or water, or she may just want to play or to to be petted.
Either way, she's trying to tell you something.
Don't punish her for communicating! Would you punish your children for talking? No! So don't punish your dog for talking either!
If her barking is too much for you and your cat then maybe you should find her a home where she'll be appreciated for the beautiful dog she is!
August 11, 2009
0

found this helpful
I don't have a solution to your problem; however, why don't you submit her picture in the photo contest? She looks adorable!
August 11, 2009
0

found this helpful
Cricketnc you have to chill out. I do not punish my dog. She is never in need of food or water, she goes out three times a day not to mention the car rides, she also get brushed three times a day and I do my own grooming which is a lot easier on her, we play throughout the day (with her favorite toy, the Kong). I am a obsessive animal lover. I belong to HSUS, HSLF, WWF, ASPCA and two rescue groups. She does bark when someone comes to the door or passes our yard, and yes she is suppose to and I let her.
It's the sitting in the middle of the room and barking at thin air, but the spray bottle has worked wonders. I research the Pom breed and I know they are barkers, I also know they can be trained to limit there barking. I seemed to have offended you somehow. I thought it was a simple question, I am not an animal ogre. Now, come on, does this look like an unhappy and a "Punished" dog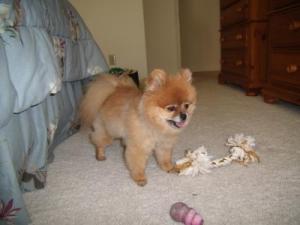 August 12, 2009
0

found this helpful
My dog was a barker when she was little. When she barked when someone was at the door I'd say GOOD dog and gave her a cookie, or something she likes (carrots are better for dogs), I then petted her and praised her more so she got the idea to bark only when someone was at the door. It took about 3 months of training. Then, if she barked for other reasons just talking I'd say NO bark and squirt her with water in her face, or I'd put some beans in a tin can and shake really hard.
She would get startled and learn, hey that's not fun, took 3 months for that. Now, I would be careful what "no bark" you wanted. For me in a condo, I'd want her to listen to strange noises, so I wouldn't over do it. I hardly use the word "No", I say "hey" or "stop" instead of no. No meant terrible, terror, or warning. So, that's how I got my dog trained. She's also non leashed trained.