October 17, 2008
0

found this helpful
You need to speak to your vet about your concerns because he/she will be able to put your fears to rest as well as give you all the great medical reasons that this should be done.
We had a german shepherd that went for a long while without being fixed because my father in law thought it would "unman" him but we had it done anyway and the dog took it fine. In fact, he became less aggressive and I believe that it helped with giving him a healthier, longer life (16 yrs!). Please know that he isn't going to hate you for having this done! Good luck! You and Marley will be in our prayers!
By Erin (Guest Post)
October 17, 2008
0

found this helpful
I'm a vet tech and I would say out of all the pitsbulls we've neutered 95% of them end up calmer and more loving. O wouldn't worry about it at all.
The only risk would be after seven years. He will be a much healthier dog and live longer.
By (Guest Post)
October 18, 2008
0

found this helpful
We had ours done at about the same age and it did not affect his temperament at all. He remained as energetic and fun and loving as he was.
By drowzydawg (Guest Post)
October 18, 2008
0

found this helpful
We live in the country where people constantly dump dogs and cats., a traumatic experience for both us and the animals. At one point we have housed 16 dogs. Everyone who passes through here gets spayed or neutered. No one has been worse for it. We are convinced that they are healthier and happier. Males tend to "argue" less and both genders are less nuts and anxious to roam when someone "goes into heat!"
They don't get fat if we watch their intake and give them daily exercise! I am convinced that allowing a female to have one litter of puppies does nothing more than put more little critters on the planet with minimal chance of finding a good home. Good for you for giving a pet a thoughtful and loving home!

October 18, 2008
0

found this helpful
I agree with the other replies. Your dog is not going to be "changed" after having him 'fixed'! He might be a little sore after the surgery, but he's going to be just (if not more!) loveable as he was Before the procedure! A lot of people forget that dogs love their owners unconditionally; he's not going to be mad at you.
And, if anything, you will be showing people that you are a responsible pet owner. Having your animal spade or neutered prevents unwanted puppies and it stops the risk of them being neglected or abandoned and being left to "fend for themselves".
By jean (Guest Post)
October 18, 2008
0

found this helpful
We adopted a 9 year old poodle whose owner died, and had him neutered at that age. There was no change in Pookie's temperment or affection for us. He lived to be 17.5 yeats old, and died peacefully in his sleep last November. You are doing the best thing for Marley.
By Guest (Guest Post)
October 20, 2008
0

found this helpful
There are health benefits to spaying and neutering. It often reduces their chances of certain cancers. They also won't get into as many fights.

October 20, 2008
0

found this helpful
You are doing one of the best things possible for your dog. Good for you for being a loving and responsible pet owner. The only way you can affect your dog in regards to getting him neutered is if you reflect your anxieties on to him. Treat your day at the vet as any walk you would take him on: no fear, no tears and no anxiety and the two of you will be better off.
Dogs that get fixed live longer, are less aggressive, less likely to run away, get into fights or perform unwanted behaviors like humping! Also, lest not forget unwanted puppies that end up homeless or in kill shelters if not adopted. You are doing the right thing!
By Barbara J Snyder (Guest Post)
October 20, 2008
0

found this helpful
Hi I had my girl dog Princey fixed and thank you Lord she was about to go into heat and have blood on the floor. Sorry couldn't handle that. She is still my big wirey pain in the butt love of this family. She is a wired terrier mixed and she loves to bark eat and have attention 24/7 and above all loves her squeaky toy. She fits in perfect with this family. She is also a good guard dog and lets us know when people are here and stuff. She loves our daughter Sarah who is autistic and everybody loves her because she is so cute. She is 3 in people or dog years not sure.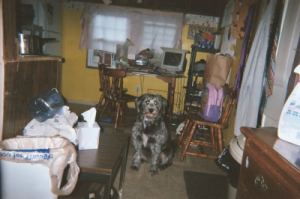 By Shelter Worker (Guest Post)
October 20, 2008
0

found this helpful
It DEFINITELY helps prolong life by eliminating the opportunity for several types of cancers. It does help curb aggression but will NOT change your dog or make him start prancing around in a dress. :)
He'll be the same dog you love. He will not see a difference in anyone he knows. It's the responsible thing to do.
You will also save money on his license fees and pay much CHEAPER fines if he ever gets loose from you. It will also decrease your vet bills over time because it eliminates a host of potential cancers and health problems.
You really are doing the responsible, loving and best thing for your dog!

October 20, 2008
0

found this helpful
He will still be himself, only not doing all the annoying things stud dogs do. Good idea, best thing to do. You'll be surprised at how well he'll shake this off.

October 20, 2008
0

found this helpful
Hi Krystina,
I think everyone who loves their animals don't want to see them hurt in anyway, from shots to getting fixed. We're going to get our 3 males cats fixed in a couple weeks for 2 main reasons.
1. There's enough cats that my boys don't need to contribute to the problem
2. It will keep them home!
I also have 4 dogs. 1 male and 3 female that are fixed!
Gives you a chance to baby and coddle Marley when he gets out of surgery too :)
Good Luck and you're doing the right thing.
By PItbulldefender (Guest Post)
October 21, 2008
0

found this helpful
I felt the same as you when I finally decided to get my pit bull neutered. He was already 5 years old at the time. I really shouldn't have waited so long but he is fine and your dog will be too. It is a little rough on them for a couple of days but that's about it. My dog did gain a lot of weight because I'm not able to exercise him. The advice I would give is to make sure your dog gets plenty of exercise as soon as the vet says its OK and watch his diet. Good luck to you both and you are doing the right thing.