April 22, 2009
0

found this helpful
Don't need your cooking spray - use a sheet of wax paper or parchment paper to line your baking pan and the berries will not stick AND the wax paper or parchment paper can be reused several times. You also do not get any oil on the fruit, so fewer calories when you use them later.
You can also do this with other fruits that you freeze - peach slices, melon balls, frozen bananas, etc.

April 22, 2009
0

found this helpful
Love your username. That technique you describe is called 'IQF' - individually quick frozen, and the frozen produce people have been freezing things that way on conveyor belts for years. It's the right way to freeze berries. I do have some luck freezing blueberries by rinsing them, pitching them out onto a towel and using a second towel to pat them dry, then freezing them all at once in a bag.

May 26, 2009
0

found this helpful
I have done this for years, also with gooseberies, strawberries, and blue berrries. I don't use the spray nor do I line the pan with anything. Let us keep it as thrifty as possible.

Cricket
Bronze Post Medal for All Time! 205 Posts
May 26, 2009
0

found this helpful
How do you keep your berry plants from spreading into the rest of your yard? I have a good sized blackberry plant (wild) that I'd love to keep for the berries, but it is spreading fast and taking over my entire yard!

May 26, 2009
0

found this helpful
I have been freezing them for years, I don't use spray oil or even wash strawberries, raspberries or black berries, I just put them on a pan or plastic container, single layer, and freeze. Then they can be vacuum sealed without getting crushed. Blueberries can be washed but be sure to dry them before freezing them.
If they are not wet you can just put the pint container straight from the store in the freezer they will stay separated. Whe vacuum sealed they will stay fresh for at least a year.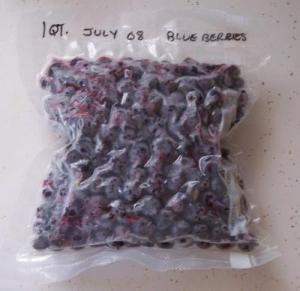 May 30, 2009
0

found this helpful
Great idea! When I buy chicken on sale, I place saran wrap on a cookie sheet and put the chicken pieces on it, making sure the plastic does not crinkle. Then I freeze and put the pieces in a big freezer bag. I like the nonstick spray idea. Thanks.

July 31, 2009
0

found this helpful
No cooking pan, just place unrinsed, NO wash first! Berries single layer in a freezer bag closed on a plate to keep them flat, when berries are frozen whap them against the counter, to make sure they are loose-when all berries are individually frozen seal up the bag expressing the air, add to the bag as you pick but freeze all new berries this way in a separate bag.
wash when thawed. use, eat.

August 2, 2009
0

found this helpful
That's really cool-but in Oregon I picked blackberries and promptly put them on a metal sheet pan-froze them like marbles. Didn't need spray, then into freezer bags flat layer.