Felix was spoiled rotten. He was jealous of the computer, did not like for me to read a newspaper, or go to bed. He would attack me and then run and hide. He was fastened on a leash and chain when I let him outside. He would give you five, shake your hand and sit up and beg, and he would lay down when I told him to (mostly if he was going to anyway--you know how independent cats are.)
He thought he was a dog. He loved to watch the deer out the window and was constantly watching the birds at the feeder. He was all black except for about 8 white hairs on his neck and 2 in his left ear. He was a cool cat--he had been tattooed (for identification).
In August 2004, we had to have Felix put to sleep because he bit me with only one tooth and poisoned me with a bacteria that hospitalized me for five weeks and four days, having to have penicillin IVs every 4 hours and another antibiotic IV every 8 hours the entire time.
I miss him so much, but I don't want this to happen to anyone else, especially my dear sweet great-granddaughter, Morrigan Rosanna, who has had two open heart surgeries before age one, now two and 1/2, and is doing great, thanks to God and all the prayers for her.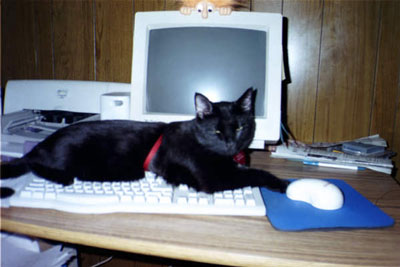 He had his own screen name and profile:
Member Name: FelixtheCat22
Location: South of Wheeling WV USA
Marital Status: Single
Hobbies: Sleeping, eating, and gardening (but not much, I dig, fertilize and water)
Computers: Made it myself, a typewriter, a TV hotwired to rabbit ears, 2 catfood cans with string. A mouse? what mouse? (burp!) 'scuse me.
Occupation: retired (What else? after what they done to me!)
Personal Quote: Let sleeping dogs lie.
By Allena F Dulaney