(Submitted 3-13-2005) Yesterday I had some pictures taken to submit to the photo contest showing off my little family of joys. Today tragically we lost Little Bit. I wondered if I should or should not still enter the pictures, I am going ahead in memory of Little Bit. She may be gone, but her memory will live on. This is Little Bit, who won the hearts of anyone who was around her. A joy to all.
The second picture is Dad, Rush, and Little Bit. Don't let the picture decieve you, neither was ferocious, just both going after a snack Mom was holding over their head. LOL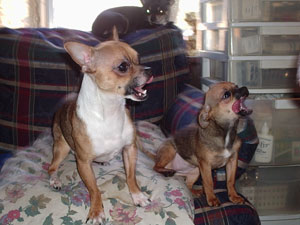 Third picture is Mom, Sugar Bits, the Black Chihuahua, then Dad, Rush, and of course our precious Little Bit, may God's Angels be loving her as much as I did.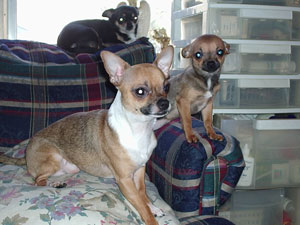 By Edie