March 18, 2010
0

found this helpful
Have you tried Lowe's? Good luck.
March 18, 2010
1

found this helpful
If you can't find your plant hanger, you can probably also use an over-the-door wreath hanger. These are fairly easy to find. I bought mine after Christmas at a dollar store. You can bend the wreath hanger in several places if you need it to jut out from the window more. You can use most of the over-the-door hangers in the same way you'd use your plant hanger. Buy the flat metal ones, not the ones that are round or the clear plastic hangers. They sell from 99 cents to $12. I got mine 2 for a dollar at an after Christmas sale.
Here's one for $1.84: www.wasserstrom.com/.../Product_112905
K-mart $1.86:
www.kmart.com/.../p_10151_10104_009W087210110002P?vName...
Here's a photo of a wreath hanger:


July 19, 2012
0

found this helpful
Did you ever find these I too have been searching?
Diane
April 26, 2017
0

found this helpful
I had some of these years ago in black metal. No swivel though. I too would love to find one or a picture of one to see if I can get some made. The wreath hook would not move the plant far enough from the window.
The design was a 2 prong thin part that slipped behind the molding of the window, a curved piece that came down out side the molding but created leverage to hold the hook in place and then a bar that came out from the molding several inches, say 6 to 8, with a dipped half circle to hold the plant hanger at the end. Anyone have a sample?
June 4, 2017
0

found this helpful
I do not know where to find this item & have been searching for the same!!! These are great I had some & they were misplaced when we had some painting to be done!! Would love to find also!!
August 21, 2017
0

found this helpful
I lost mine in a move, but didn't worry about it because i didn't need them in the new house. But now we've moved again and i sure could use them! If anyone finds them, please let me know, too. Thanks
September 11, 2017
1

found this helpful
I still have some of the hangers you all are talking about, I can't find them either but Amazon has a similar one called the Omni Hook.
August 9, 2019
0

found this helpful
Did you ever find these??
August 21, 2017
1

found this helpful
I would try Walter Drake. Wdrake.com
May 5, 2018
0

found this helpful
I just moved and while going through 'stuff' found my old one. I used to have 2 black metal ones and I still have one white one. They were/are great. I had several sizes. Now I'm looking for them again. I'm so glad I found this site. I'll check over the door hangers (needs to be strong though) and also some of those specialty mail order catalogs online. Good to know they might still be out there...back in the day, they were my favorites for hanging plants. Thanks!
June 11, 2018
0

found this helpful
I'm looking form the same item. I lost the one i had if anyone knows where yo find them I would be happy
September 26, 2018
1

found this helpful
I am also looking for these. I have a few and one still in the package, about twenty years old.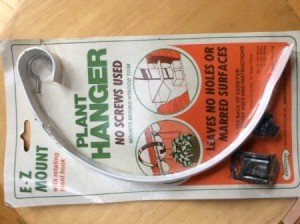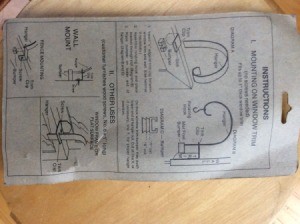 October 16, 2018
0

found this helpful
Yes! I have three of these (20+ yrs old) and would like to purchase several more. They are perfect for my current plant/window/lighting needs. Simple, can hold about 8-10 lbs, and get the most light from the window without having to drill any holes! a huge plus.
Any help in locating the manufacturer/maker would be gratefully appreciated.
October 20, 2018
0

found this helpful
I just spend an hour searching eBay etc. But cannot find one. I just moved and left my two behind never thinking they would be irreplaceable. If anyone would care to sell theirs, I am interested. Thank you. Noreen
February 5, 2019
0

found this helpful
Who was the manufacturer listed on the packaging?
Chet