I made this recipe for Thanksgiving as a lighter alternative to pecan pie. I served it with homemade bourbon whipped cream and it was a huge hit! It has just the right amount of gooey filling without over doing it; and the pecans on the top are perfectly toasted. Since I didn't have a tart pan, I used a pie plate, which worked out just fine.
Ingredients:
1 cup packed light brown sugar
3/4 cup dark corn syrup
3 Tbsp. all-purpose flour
2 Tbsp. bourbon
2 Tbsp. molasses
1 Tbsp. butter, melted
1/2 tsp. vanilla extract
1/4 tsp. salt
2 large eggs
1 large egg white
2/3 cup pecan halves (I used the entire 1 1/2 cup package)
1/2 (15 oz.) package refrigerated pie dough (such as Pillsbury)
Cooking spray
1/2 oz. bittersweet chocolate, chopped
Directions:
Preheat oven to 350 degrees F.
Combine first 10 ingredients, stirring well with a whisk. Stir in pecans. Roll dough into a 13 inch circle; fit into a 9 inch removable-bottom tart pan coated with cooking spray. Trim excess crust using a sharp knife. Spoon sugar mixture into prepared crust. Bake at 350 degrees for 45 minutes or until center is set. Cool completely on a wire rack
Place chocolate in a microwave-safe bowl; microwave at HIGH 1 minute. Stir until smooth. Drizzle chocolate over tart.
Make the tart a day ahead, and store it in the refrigerator. Best served with Bourbon Whipped Cream (below).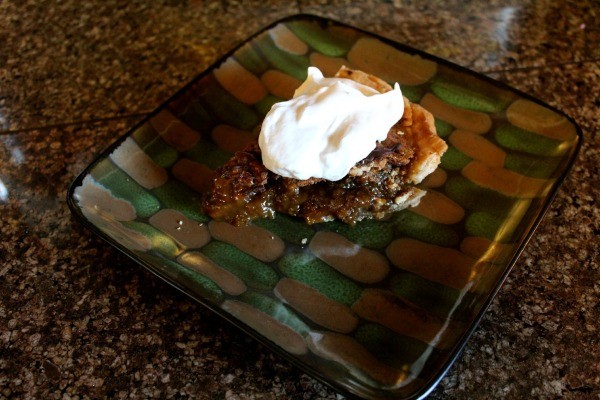 To make Bourbon Whipped Cream: I whipped one pint of whipping cream until soft peaks formed. I added 3 tablespoons powdered sugar then 3 tablespoons bourbon and continued beating until peaks formed.
Source: Cooking Light
By Stephanie from Hillsboro, OR