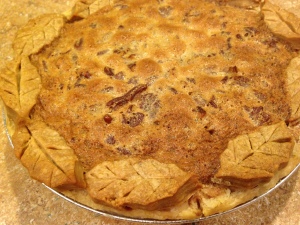 Pecan pie is one of my favorites. My father used to make them when I was a child. This is a recipe based on one in an old cookbook that belonged to him. My daughter and I made this version for Christmas and decided to add the leaf motif around the outer edge. Hope you enjoy it.
Total Time: 1.5 hours including prep time
Yield: 8+ slices
Source: Based on recipe from The Encyclopedia of Cookery, 1948
Ingredients:
1 9 inch pie shell
1/3 cup butter, softened
1/2 cup brown sugar
1 cup light corn syrup
3 eggs well beaten
1 1/2 cup broken pecans
1/4 tsp salt
3/4 tsp vanilla
Optional: Dough Leaf Cutouts
additional pie crust or dough scraps
leaf cookie cutter
Steps:
Preheat oven to 350 degrees F.
Partially bake pie crust, approximately 7-10 minutes or until light brown. Remove from oven and set aside.
Cream butter and sugar.
Add Karo syrup and continue creaming.
Blend thoroughly.
In a separate bowl, beat the eggs.
Break pecans into medium to small pieces and measure.
Beat the eggs into the bowl with the sugar, butter, and syrup mixture. Add the salt, vanilla, and nuts.
If you are going to add the leaf accents, roll out your pastry scraps now and prepare your shapes. We had a small leaf cookie cutter, but you can free hand cut them as well.
Turn filling into partially baked pastry shell (add leaves) and return to 350 degree F oven.
Bake for 50-55 minutes, or until the filling is completely set.
Cover the edges with foil or a pie edge cover at approximately 45 minutes, to prevent the edge from getting too brown.
Check with a toothpick to make sure the filling is completely set.
Let cool to room temperature. Slice and serve. Yummy.
This time my daughter and I decided to dress the pie up a bit by adding leaf shapes to the outer edge. For this you would need to use an additional frozen crust or use the scraps, if you make your own dough.
Read More or Comment...
Add your voice! Click below to comment. ThriftyFun is powered by your wisdom!
I have gotten rave reviews on this pie. Different than the syrupy kind. This is a combination of half a dozen different pecan pie recipes that I had tried over the years.
Ingredients:
1/2 cup melted butter (do not substitute) pie will not set
1 cup light brown sugar
1 cup light corn syrup
4 eggs beaten (use large or extra large eggs)
1 tsp. vanilla
1/4 tsp. salt
9 inch unbaked pie shell
Pecan halves to cover top of pie
Directions:
Combine butter, sugar, corn syrup and cook over very low heat, stirring constantly until sugar is dissolved. Cool slightly.
Beat eggs, and add 3 Tbsp. of the sugar mixture to the eggs. Stir to blend well. Return egg mixture to sugar mixture. Blend well.
Add vanilla, salt and blend well.
Pour into a pastry shell.
Using your thumb and first finger pick up a pecan half and place it gently on top of the sugar/egg mixture along the outside edge in the pie shell. Place pecan halves completely around the outside edge. Start a second line of pecan halves just touching the first row. Repeat the circles until there is room for only one or two pecan halves in the center of the pie.
Place pie in a 350 degree F oven on the center shelf. Bake 50 to 55 minutes. Check about 15 min before it should be done and if necessary cover the pie crust with a ring of aluminum foil to prevent too much browning. Allow to cool to room temperature before cutting. Serves 6 to 8.
This is wonderful in those tiny tart shells that will hold only a couple of Tbsp. of the sugar mixture and a pecan half on top for buffets, church dinners.
Servings:
6 to 8
Time:
20 Minutes Preparation Time
50 to 55 Minutes Cooking Time
Source: A combination of 5 or 6 pie recipes I have tried over the years.
By Nancy from Cross Lanes, WV