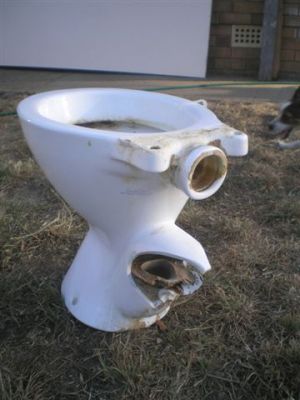 Does anyone know if taking supplements causes the toilet to get mineral deposit build up? Our toilet is total covered with deposits. Toilet bowl cleaner does little. I can only get it clean by removing all water and using CLR with a Scotch Brite and a butter knife.
By Sherilyn
Answers:
Cleaning Lime Deposits Off a Toilet
Pumice stones work the best, and they won't scratch either. I've found some good ones at: bkpumice.com

Good luck. (09/19/2009)

By Debbie
Cleaning Lime Deposits Off a Toilet
I had the same problem and tried everything, even a $16 bottle of something from the hardware store. I finally tried The Works that I bought from Walmart for about $1.20. It is amazing! I had to use it a few times at first to get it back to normal, but now I quickly swish it every day and no more build up. Make certain you follow the directions. I assume if you leave it longer than it says it can damage the finish. (09/22/2009)

Cleaning Lime Deposits Off a Toilet
Its not calcium supplements, it's the lime in the water, and this it what the build-up looks like in the back of a toilet.
The part you can't see gets more and more built up, reducing the flush. (09/23/2009)
By julie
Cleaning Lime Deposits Off a Toilet
If you remove as much water as possible from the bowl then pour down a large bottle of the cheapest cola you can find, leave for as long as possible (overnight best) and brush and flush. Yea, pearly and white! (10/15/2009)

By lesley
Cleaning Lime Deposits Off a Toilet
I ended up using the Zep stuff, but my stains were so hard that I was afraid to do anymore than 2 two minute treatments. Then I got the Bar Keepers Friend (bought both at Home Depot, boy they were very helpful). I used the green 3M scrubbers with the BKF and got it off. It didn't take an hour, but needed elbow grease. This was just for a mineral deposit ring on my toilet. Sparkling clean! (08/08/2010)
By SalishT