By Angela (Guest Post)
January 14, 2009
0

found this helpful
You might try an alternative to keeping him outside. We keep our dogs inside, and while they're not destructive, they have separation anxiety and will go to the bathroom if we leave even though they are able to hold it through the night. We do one of two things when we leave. First, we have a doggie gate and lock them in the kitchen where if there is a mess when we get home, it cleans up easily off the tile. Second, we bought a crate and have crate trained them. They love their crate and often lay in it while we're home. I would research the crate as an alternative. It really is a life saver!

January 14, 2009
0

found this helpful
Thanks for the advice but I really want him to learn that outside is okay, the funny thing is when we are home he stay's outside on his little chew pillow all the time and only comes inside every now and then, it really is only when we leave to go to work when he plays up and gets aggressive.

Judi
Bronze Feedback Medal for All Time! 239 Feedbacks
January 14, 2009
0

found this helpful
Why are you associating the aggression with being made to stay out? Does he try to bite when you put him out? Maybe you can have one special treat that he loves and use this ONLY when you have to be gone. I do this with my dog except that she stays in and just wants to go in the car.
I give her a special cookie that she only gets when she can't "go car" and she's so excited to get it she forgets all about me.
By Emily (Guest Post)
January 15, 2009
0

found this helpful
I would try a crate for when you are not home. Dogs usually love them when they get used to them. Keep your dog in the house in the crate when you leave. Also, I learned from Caesar Milan "The Dog Whisperer" that separation anxiety is a sign that your dog thinks he's in charge of your home - and sees you as his property- which is a bad thing.
Look up how to take your dog on a walk. (That may sound stupid) but there is a right and a wrong way to do it- and taking your dog for a walk the right way will be a way for you to take authority over you dog and your home. Hope that helps. Check out Caesar Milan- that guy has really blessed me.

January 15, 2009
0

found this helpful
I am not sure if the agression is because he doesnt want to go outside but this is the only time he growls and tries to bite but we have tried doing the special treat thing and it worked for 1 day then he caught on to it and didnt buy into it again, he only gets upset when he has to go outside and he know we will not be home as we are working.

Judi
Bronze Feedback Medal for All Time! 239 Feedbacks
January 16, 2009
0

found this helpful
I'm sorry that I don't know what a Moodle is (poodle and something...) but he sounds like he could use some aggression training. You may have to enlist a professional for help with this. I DO know that he can't be allowed to gain the upper hand or just being left outside alone will not be the only thing he shows aggression for.
If he knows he's got you he'll use it other times. I don't mean to imply he's mean but, just like a child, if a tantrum gets the candy in the store it should also get the extra cake at home or the late night TV or something else.
By Robin (Guest Post)
January 16, 2009
0

found this helpful
Your dog wants to feel part of your family -- his pack. When you leave and put him outside, he feels unsure and frightened because he is alone and his pack is gone. If he is a year old, he is no longer a puppy and should be able to hold it up to 8 hrs at a time. Get a crate or gate him off in a non-carpet room to see how he does at first and then once you feel better about him not messing in the house or being destructive, you can give him free reign.
The difference to being left outside alone and inside alone is that inside he is surrounded by scents and smells of his pack (your family) and that is comforting for him. Please try it. I promise your dog will be a lot happier and well-adjusted. He just wants to be a member of your family in every sense. And on another note. If someone tried to break into your house while you are at work, a dog does absolutely no good if he is nicely isolated in the backyard. Burglers have all the time and space they need to rob you blind.
By petlvr (Guest Post)
January 16, 2009
0

found this helpful
Could it be possible that neighbors are teasing/abusing him when he is in the yard and you are not home?

January 16, 2009
0

found this helpful
Maybe something is happening when you are gone. Where I used to live some neighbor children threw rocks at a dog next door when the neighbors were gone. I saw them and told them to stop or I would call the police.
About a week later the dog jumped the fence and bit one of the kids. The family ended up having to have the dog killed and had a lawsuit. You might want to consider a crate in the house.
By REN (Guest Post)
January 16, 2009
0

found this helpful
I am sorry. But leaving your dog outside while you go to work is not right. I use to to be a Letter carrier and I have seen my share of dogs being left outside. They get lonely. They are not suppose to be left outside all day. Some states actually have laws about this.
Fencing him in the kitchen or a crate that is comfortable for him to be in, inside your home, is a better alternative. Especially if it is too hot for him outside or if it should rain. And it could be that he may be bothered by kids as is stated in previous feedback. Also, any utility employees that may come around.
My dogs stay inside when I leave to go anywhere. I fence them in the kitchen. And all is well. I would really reconsider allowing your little furry family member to stay inside. It is actually what is best for him.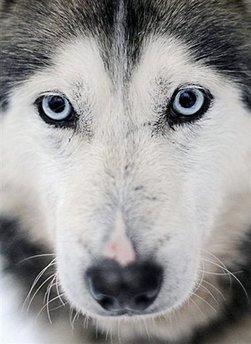 January 16, 2009
0

found this helpful
I had a dog in Fairbanks, AK that had to stay out when I was away. However, like most houses up there, there is a mud room/day porch so you can go in from the cold, close the cold out, then come into the house. I made her a swinging door out of an old door mat, put a heat lamp out there up high, and she was able to get warm and still go play and do her "biz" outdoors.
Now, you may not have a porch, but if you do, that might help. Also, if you don't, you may want to get him a doghouse that gives him warmth, something you wear to smell, etc. In one day, my dog chewed the end off the heater I was going to use in her "porch", one of my Thinsolate Gloves, and the handle off a 27.00 pair of Fiskar scissors! I thought my head was going to explode!
After I gave her a "choice" then I was fine to go off. Sometimes, your dog is cool to go out because she/he knows you are home. I would try the crate, too.

Maryeileen
Bronze Request Medal for All Time! 59 Requests
January 16, 2009
0

found this helpful
Too many (bad) things can happen if an animal is left alone outside all day while no one is home. I would consider blocking him in the kitchen.
I still remember one Easter weekend previous neighbors of ours left their dog outside all day while they were gone. It started POURING and rained for a few hours, all the while I could see the dog periodically run to the gate and then disappear only to come back.
By suziehomemaker01 (Guest Post)
January 17, 2009
0

found this helpful
Have you considered installing a doggie door so he can go in and out as he pleases?

jan king
Silver Feedback Medal for All Time! 278 Feedbacks
January 17, 2009
0

found this helpful
Please do not leave your dog outside while you are gone. It is NOT safe..I am aware of too many horror stories of pets that have been left outside unsupervised.
Grandma Jan & Kato the Wonder Dog

April 21, 2009
0

found this helpful
Don't coddle or give in to him. Put him outside when you go to work no matter if he growls or bites. He'll get the point soon enough. Also, try putting him outside when you go on short trips to help him adjust.