By (Guest Post)
August 21, 2005
0

found this helpful
Sounds like an allergy. Most common allergens are corn and wheat in food. Try switching to a lamb and rice food. Also, dogs can be given Benadryl. One tab to start, but if she is still itching, check with vet.
By honeydoya (Guest Post)
August 23, 2005
0

found this helpful
Hi,
My cat all of a sudden had this start happening when he was about two years old. We were so distraught! Took him to the vet, no fleas, no worms, couldnt figure out what was causing it as he had been eating the same food since birth. But guess what ! he had developed a food allergy to by products in the food. The vet suggested trying food with no by products at all in it to see if by chance it was that. Sure enough in two weeks on non by product food his hair grew back, hair balls stopped, no itching etc.
I figured he was all better so went back to the store brand cat food, with in 3 days he was puking, itching, and acting like he was gonna die.
Allergies happen just like that. I went to pet quarters and there are several brands of non by product food available. On of the best I found for a frugal price was the wellness brand.
Good luck to you!
By snigdibbly (Guest Post)
August 23, 2005
0

found this helpful
Why hasn't the animal been taken to a vet???
By (Guest Post)
August 23, 2005
0

found this helpful
Thank you, for all your help. At present we are trying the baby oil on the dry skin and a benadryl tablet. I will let you know if this does the trick . Thank Susan from Hamilton

christi
Bronze Recipe Medal for All Time! 52 Recipes
August 23, 2005
0

found this helpful
have you tried skin so soft by avon we use that and a benedryl tablet a day for my dog who has allergies thats what the vet recommended
By Susan (Guest Post)
August 27, 2005
0

found this helpful
Thank you all the benadry seems to be working. She had taken her dog to the vet and he told it was fleas. Susan from Hamiiton

August 30, 2005
0

found this helpful
Years ago when I had my little first baby, a tiny poodle named Brandy, every summer she had the itching. Her little belly would get all red and sore. It was grass allergy. The vet gave me something, so many years ago I don't remember what, but it worked and by fall the allergy would go away.
Until the next summer. She did grow out of it though. It lasted maybe five years and they she didn't have the allergy anymore.

November 3, 2005
0

found this helpful
My cat was put on Prednisone injections for itch. She did wonderful. It did make her gain some weight but it was so worth it.
By holly (Guest Post)
February 1, 2007
0

found this helpful
He may be allergic to the food he is eating. There are certain fillers in dry food that alot of dogs are allergic to. Take a look at Barking moon and there is also a raw food diet you can look into. Bravo is the brand. website may be bravorawdiet.com or just do a search. Raw food builds their immune system.
By Shan from BC (Guest Post)
February 11, 2009
0

found this helpful
I have a Presa Canario as well and she is about 18 months. She started suffering from itchy skin around the top part of her tail and back area. She has always been on a lamb and rice diet, I rarely give her baths (recommended by my vet) and when she does have one she uses a dermatopic shampoo from the vet. I have tried the baby oil, olive oil, (on the skin and bath water) ... tried some gold bond powder and it helped subside the itchiness.
I am going to try tea tree oil, I heard it is good as well.
We had a harsh winter for the west coast and I think that contributed to her dry skin, although she only went out for a bathroom break in the cold. Presas don't have an undercoat of fur like other dogs, so we were aware of that with the cold.
I will let you know if the tea tree oil works
Shan from BC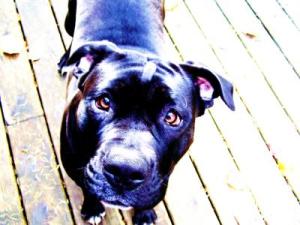 By (Guest Post)
February 18, 2009
0

found this helpful
I had the same problem with a boxer. He kept licking his feet ( 3 of them) until they were so raw, they were staining my carpet. It turned out that he was allergic to grains and most of the food out there is grain based. I found a name brand called "ACANA ( grasslands mix)" at the "barks and fitz" store. It took about 3 months for it to clear up. The only problem is the price. A 30 pound bag will cost you about $72, but I personally think is worth it. I will not feed him anything else from now on.
Good Luck