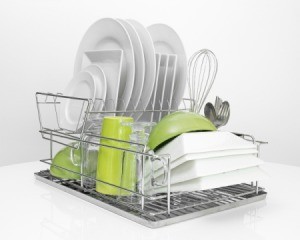 After I run my dishes in the dishwasher, they have a strange odor to them. I have tried several detergents and had my water tested. I'm dumbfounded. Any ideas?
By brian from NY, NY
Answers

July 31, 2015
2

found this helpful
Best Answer
Look at your water. It is nothing to do with eggs, or your dishwasher, the water coming out of your taps has not been treated properly at source. Look up Hydrogen Sulphide in your water supply. Hope this helps. We have trouble here in France.

August 31, 2015
0

found this helpful
Best Answer
It's not your dishwasher, water supply, dish soap, etc. When there are periods of high heat, humidity and dew point keep your windows and doors closed. The fresh (?) outside moist air is the reason.
Answer

this Question
I live in a townhouse and had to replace my simple dishwasher 6 years ago, and ever since then have had a rotten food smell on my dishes from the dishwasher. It is the most foul smell I have ever encountered. I have since then replaced my dishwasher twice to see if it is a problem with the dishwasher, have had 6 plumbers out to look at the plumbing and dishwasher, along with a specialist from the dishwasher manufacturer and no one can figure it out.
I am at the end of my rope and just want to move. Aside from tearing up the walls and replacing all the plumbing I don't know what to do. Does anyone know what this is from. Please help!
By Sheila S
Answers

July 17, 2014
0

found this helpful
There are a few dishwashing "tabs" that leave your dishwasher smelling foul. Unfortunately, I can't remember the name of the one I used that did this as it was only a sample. It made my dishwasher smell like vomit after I used it. I do remember it was one of those brightly colored combo tabs. After that, I only use the store brand of dishwasher tabs in the fresh scent.

Louise B.
Silver Feedback Medal for All Time! 337 Feedbacks
July 18, 2014
0

found this helpful
For the life of me, I can't figure out how your dishes could be smelly. Does the inside of the machine smell constantly as well? Does the water itself smell? You say you have replaced the dishwasher, and it still smells? If so, than it must be coming from the water or the plumbing. Does the water in your sink smell?
The plumbing that runs to your dishwasher is the same plumbing that runs to your sinks, so if the smell is somehow in the pipes or your water, it should be all over. Does everyone smell this foul odor or only you? Have you tried running the various things through your machine to clean it? People run a cycle with vinegar, or Tang, or citric acid, or commercial dishwasher cleaners, or baking soda (one thing at a time). You could even run one with a cup or two of bleach.

September 30, 2017
0

found this helpful
I just read an article about this issue. New detergents do not contain phosphate due to new EPA rule, this makes them stick to the dishes and over time cause smell.
Solution: add 2 small spoons of white vinegar at the rinse cycle.

October 16, 2017
0

found this helpful
We lashed out on a Miele dishwasher ( our first) for the first few weeks the dogs wouldn't stay in the kitchen with it because the smell of chemicals was so strong Tried several tablets but am now on Ecover but dishes glasses etc still small a bit How and where do you put in liquid detergents? Or the vinegar etc ? At the moment we are rinsing dishes before AND after the cycle - not really what I expected

July 18, 2018
0

found this helpful
its your garbage disposal,clean it,the store sale tiny little citrus balls that clean it,i used them often,then smells gone,i can drink out of my glasses again

December 30, 2018
0

found this helpful
Have you cleaned out the filter at the bottom of the dishwasher? Food collects on the stainless steel cover that lays over the drain. That as well as the medium sized cylinder gets all gunked up. Once a month, I take both pieces out and drizzle some Dawn over them, running hot water over them, while I use a course plastic brush over them, scratching every which way.
Clean the inside too, hanging it upside down. Then I rinse well, and replace. This might help.
Answer

this Question