January 8, 2007
0

found this helpful
My husband is in construction as well, so I know how frustrating trying to make a workable budget is. Many years ago I picked up the small paperback book called "Make Your Paycheck last" by Harold Moe. As one reviewer on Amazon.com states:
"It is a simple, yet effective plan for reaching your goals and managing your money. If you want a book on investing and frugal shopping, this is not the book."
I highly recommend it!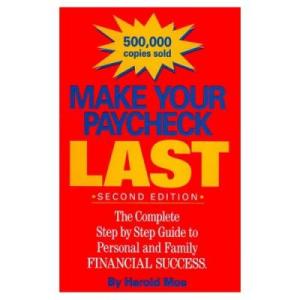 January 9, 2007
0

found this helpful
An idea I read when you make a different amount each month is to live on last month's income. But in order to do that you will have to dip into savings or something like that to make up the first month of income to live off of.
That way you always know how much you have for the month.
By Grandpa Terry (Guest Post)
January 9, 2007
0

found this helpful
This is Grandpa Terry from Budget Stretcher. I have an article that might just help you budget your money and not run out before payday. It's called "Budgeting When Your Paycheck Varies". Here is the link:
www.homemoneyhelp.com/.../paycheckvarie.html
I hope this helps
Grandpa Terry
January 9, 2007
0

found this helpful
Some of my favorite financial advisors say this: Take last year's income, and if you expect to make about the same you can divide it into 12 months. One-twelfth of a year's income is how much you have to live on. Then put ten percent in the bank. It pays to have three months' income or more on hand in case you are out of work for awhile.
Now write down all of your fixed expenses and add them up. Do they come up to less than your monthly income? Good! Now add in your optional expenses. Still solvent? You've got it made. If not, it's time to reduce expenses so you can live on your income.
January 9, 2007
0

found this helpful
You don't have to use a fancy computer program. Just use plain old paper and pencil. Check out daveramsey.com for ideas on setting up a budget.
January 11, 2007
0

found this helpful
Okay, you already got a lot of feedback but I wonder if anyone has done what they are asking you to do. We have done the paper and pencil thing and still do. I have a ledger book with all our bills mainly so we can see from month to month what we have paid. What HAS worked the best for us is the NO MORE Mortgage Debt Elimination Program. We signed up for this program after careful examination and checking with the BBB.
We are now on the road to being debt-free in 9 years instead of 35. It is a "Debt Diet". On our program we actually saved around $150 per month and still will be debt free that soon, including our mortgage. Can you tell I'm excited about it? Well, I loved it so much I now am an independent rep. for NO MORE Mortgage. Check out my site: http:\\www.NoDebt4U.org
Good luck and I know it can work for you!!