June 11, 2008
0

found this helpful
Check sales for items such as blankets or window insulation kits.
How do you heat your home? This is the cheapest time of the year to buy firewood (at least where I live). If you use propane or heating oil, you might buy some now to have your first tank ready, then start saving for your net fill.
Insulating your exterior wall sockets can be done anytime of the year, and will also help on your AC bills.
Replace any cracked or broken window glass.
Planting trees on the north to act as a wind break should be done now, for future (several years) years benifit.

Judi
Bronze Feedback Medal for All Time! 239 Feedbacks
June 11, 2008
0

found this helpful
I totaly agree with the Missouri mom and would add that you can stock up on food because it's only going to get more expensive. Growing a garden and canning it will help. You may be able to find a gleaners club in your area so you can clean out commercial gardens or orchards and can and freeze that food.
If your drapes are not the insulated kind you can begin to work on getting them replaced with some that are.

June 12, 2008
0

found this helpful
I lived in Alaska for five winters, and these tip have served me well. Make sure to pick up and put away all the sprinklers, trikes, kids toys, etc. Once the snow hits, you won't see them and they pose a real hazard. If you are a baker, you can save up to 55 gallons of flour in a plastic trash can lined with a "steel sack" plastic bag, and put 1 lb of dry ice on top, seal it and put the lid on. Keep the lid on for 24 hours and it kills all the weavels. Stock up on canned foods, but keep them from freezing. Try not to get much frozen foods, as your power may go out.
On that note, buy the 10/1.00 tea scented candles, have matches or lighters in stock, and keep fresh batteries and flashlights handy. I stock up on puzzles, books, and crafts to do that don't require power. Keep a pocket sized hair spray in your purse, as it can be helpful to "thaw" your door locks. Buy thrift shop thermals and socks now when they are cheaper. Keeping in mind you may not be able to drive anywhere, keep non-food things in stock, too. No one wants to run out of TP when it's -10! Good luck!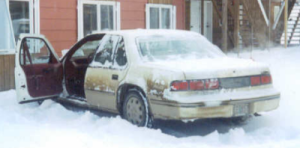 June 13, 2008
0

found this helpful
All good ideas-- I would add insulation to your attic-- check and see when would be the best time to buy -- it helps with both cold and heat--
Check out your windows-- make sure they are tight-- will help your cleaning, too.
The insulating of wall sockets AND switch plates also will pay off-- do the candle test around windows and doors and see what you learn. I learned those studs where the socket and switchs are placed are open to the attic! so you lose cooling and heat. Don't forget door sweeps and door edges that can be "tightened".
I put nailed a home made "quilt" on the attic side of my attic entry in the hall way-- made a BIG difference. I also used tucked newspaper and caulk around the foundation of an old house-- also helped!
good luck

June 13, 2008
0

found this helpful
Here's what I did last year to prepare for winter in a really old trailer (1962)...
I got lots of used blankets (yard sales, friends, family) and used them on top of plastic on the windows. What a difference they made! We stapled them around all four corners (just like you do for the plastic to keep all of the cold air OUT).
Planning on buying some evergreen bushes to surround the base of my trailer (skirting) to help with cold wind... (I'm hoping this works, haven't tried it yet nor have I heard of anyone else trying it - yet)
Since we are in an old trailer, I had the idea of buying sheets of styrofoam and insulating the walls with it. My mom did this one time in her dining room and for years, not one of us knew it was there! We just thought it was a white wall decorated with fancy curtains! LOL (she even hung pictures up!)
Also, wet air is warmer than dry air. I kept a pan on the stove and put some cinnamon in it (with water) and kept it on low when I'm home. I also bought a used (but new, never used) humidifer and let that run when I wasn't home. It did make a difference as well.
We have heat tape on the pipes underneath our trailer. I insulated all of the pipes inside from the hotwater tank to as far as I could reach in the wall. Most of the pipes run along an outside wall. Good idea to get some extra insulation on them. I found the insulation at Big Lots right before winter and they were only $2 a package.
I hope those help out some!