I rescued Emma as a very young puppy. She had been horribly neglected and I'll be the first to say that due to her circumstances, I probably spoiled her a little more then I have my other dogs, past and present.
She's a Great Dane/Labrador mix, she's not a big gal, only 63 pounds but she's sleek, lanky, and very fast.
All my dogs get the basic obedience training required to be good pets, but Emma loves the training, and she learns very quickly.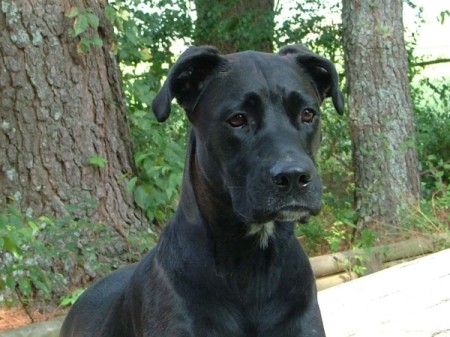 Squirrels run in fear from her with good reason. She's the only dog I've ever had fast enough to actually catch a squirrel. I don't like it when she does, but dogs do what dogs do. If that wasn't bad enough, she actually eats them too. I smell her breath every time she comes back inside just in case she caught her own supper. I want to be sure when she kisses me, I get the sweetest of kisses.
I ring a cowbell before I let her out to warn the wildlife that she's on her way.
Whenever I sneeze, no matter where I am, she comes to me. I have no idea why but she does. My husband, on the other hand, could sneeze all day and she could care less.
This afternoon, we had our usual, afternoon thunder storm. I wanted to try an experiment on her to see her reaction. It was interesting. I hid behind a door and sneezed. I watched her go down the hallway and search each room and was unable to find me. For a few seconds, she just stood still and didn't move. I could see she was puzzled and was trying to figure out where I was. I was pleasantly surprised to see her sniff the air and come directly to where I was hiding.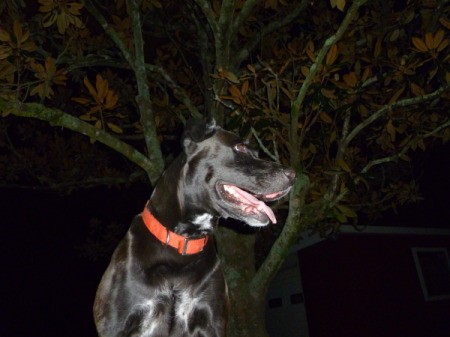 A few months back, I went on a short trip to visit my sister, and I made the mistake of calling home. I asked my husband to put the phone on speaker so I could say good night to our dogs. Well, it really upset Emma. For 10 days, my husband let her sleep in bed with him. He said she was the saddest thing to watch and that I was never to ask him to hold the phone for her again.
Black dogs in general are very hard to take any sort of really decent pictures of, so I pay attention to background, expressions, and anything else that shows the personality.
I love this picture of Emma and her favorite toy. I'm teaching myself to use Photoshop, and I cleaned up the picture and made a frame to put around it.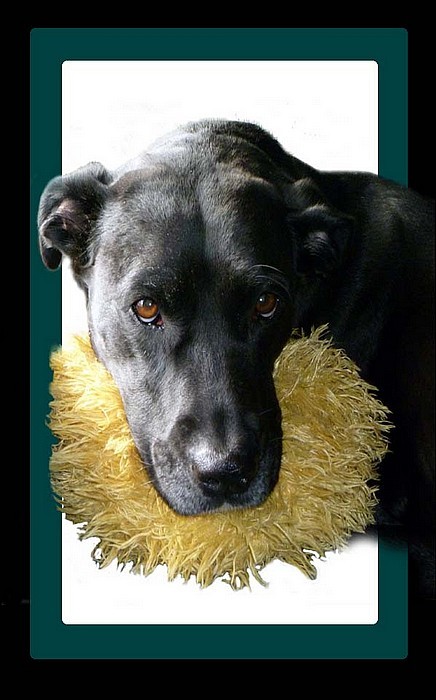 Emma is very gentle and even, in some cases, polite. I taught her to say "please" by teaching her to hold up her right front paw as if it's hurt. Anytime she gets a treat, I always tell her to say please and she does. She just celebrated her 7th birthday and is starting to show a little gray around her muzzle.
Though she's not slowing down yet, I like to say she's maturing and always on the look out for my next sneeze!
By Pritchard C. from Madison, AL