May 4, 2012
0

found this helpful
I find that the smaller bars work just as well at the sink, to wash hands. Occasionally, when a larger bar (from the shower) is starting to get small, you can suds it up and laminate a motel bar to it - depending on the shape of the motel bar.
You can get one of those things at Walmart that you put soap slivers in and use in the shower, bath, outside, ect. I think mine was only $1.00. You can grate them up and make homemade laundry soap (recipes are all over the internet); most of them call for fels naptha soap, but any kind of soap will work.
You can also grate, then melt them with a little water, and pour into molds, for larger bars of soap. Some people like to dissolve them in water and use in a pump container for hand soap, but it feels a little too slimy for me.
May 4, 2012
0

found this helpful
You could donate them to a homeless or women's shelter.
May 4, 2012
0

found this helpful
I keep them wrapped and put them in my drawers to gently scent my lingerie etc. Also, keep some in my suitcase for the same reason. If you open them and put them in an old knee high, knot near the soap and make a loop from the rest you can use it in the bath or shower since the nylon makes a gentle scrubber.
Or hang it from the tap and you will have instant bubbles for free.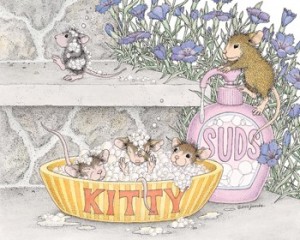 May 4, 2012
0

found this helpful
If you don't like to use them yourself, donate them to a shelter.
May 4, 2012
0

found this helpful
Hi,
Take a knee high and slip the small bar of soap inside, then tie it to the outside water faucet. When you need to wash your hands, you are all set.
May 5, 2012
0

found this helpful
I found a pretty large mouth vase and placed it beside my commode. I filled it with water and added 2 or 3 bars of motel soap and a commode brush. I use the brush each morning before I leave the bathroom and my commode stays clean without chemicals.
I add another bar and more water as needed and I've even added leftover shampoo. Soap is soap and soap cleans.