January 22, 2010
0

found this helpful
I am having trouble imagining exactly what you saw. But if you are anywhere close to a university or school, I would start there. Especially one that has an activer theatre department. My daughter had to do a lot of scene painting including how to make things appear to be stone, wood, glass, etc. They can explain how to do it and you may be able to hire one reasonably to do the work for you.
January 23, 2010
0

found this helpful
www.cobblestone-cottages.com/paintcementpatiofloors.html
I googled "painting cement like rocks" and got dozens, but this one gives you a link to a book and a nice photo. I hope this helps.
Sandi/PBP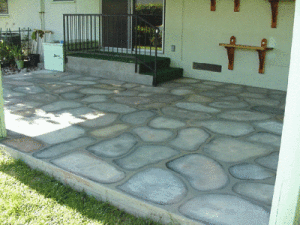 January 23, 2010
0

found this helpful
This is my bathroom floor that I painted to look like stone. You can get stencils or just draw free-hand if you're artistically inclined. Clean the floor very well first. Then, lightly sand it and clean again. I used Patio Paint from the craft store. When I had the stones looking the way I wanted, I put on three coats of polyurethane.
I used oil based because it would hold up better. The oil base does tend to yellow somewhat. Send me a message if you need more help. Good luck. Everyone loves my floor! I also painted murals on the wall and ceiling. The bathroom is always a conversation piece.
Oh, and by the way, I live in Edmond, OK.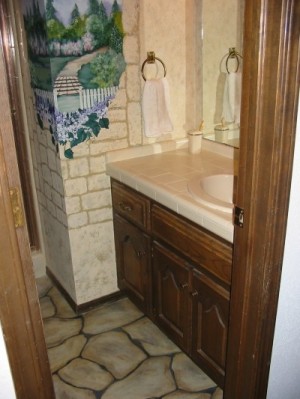 January 24, 2010
0

found this helpful
When I lived in Louisiana, there was a company that would come & do a brick finish on driveways & sidewalks. It looked great. You might try the yellow pages.
January 25, 2010
0

found this helpful
What great ideas! We have a concrete patio which is rather boring. I believe there are stencils kits out, if you are not artistic.
I think the stencils would be easiest to do in the long run. The person who did bathroom certainly is talented! Hats off to you!