My husband and I recently repainted our house, removed all the front hedges, poured in 17 bags of river rock over landscaping fabric, built and installed porch railings and installed a new garage door and opener.
I sanded, primed and painted the front door red. It was an ugly dark brown and the house color was a faded tan before.
We will plant flowers in the Spring but until then, the flower bed has two lonely hibiscus plants.
Our house is twenty years old, is on a corner lot and is a 1/4 acre.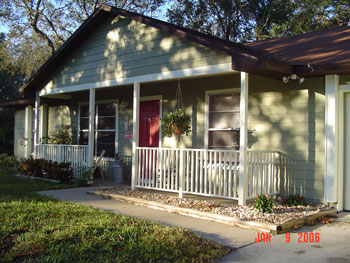 By Sandra from Orlando, Florida