This decorative little bird bath can work as a place to keep stamps, paperclips, safety pins, or even potpourri. It also seems very popular as a Barbie or dollhouse decoration. A small clay pot, clay dish, paint, glue, and wooden birds are the only materials you need to make this a simple and cost-effective craft.
Approximate Time: 10-15 minutes, without drying time
Supplies:
clay pot - 2 inches tall
clay dish - 1 and 1/2 inches wide
wood or plastic birds - 1/2 to 1 inch in size
dark or forest green paint
white paint
yellow paint
blue paint
paintbrush
craft glue
varnish/sealer (optional)
Instructions:
Turn the clay pot upside down and paint it a dark green.
Turn the dish upside down and paint the sides and bottom white.
Paint the lower sides on the dish dark green, as shown in the "Step 1" picture.
Let the paint dry. Use second coat if needed.
Flip the clay dish over so that it's facing up again. Paint the bottom and lower sides of the inner dish blue and the upper sides of the inner dish dark green, as shown in the "Step 2" picture. Mix a little white with the blue paint to lighten it up before using. Let dry.
Make a small yellow dot on the painted clay pot. Surround the yellow dot with 5-6 small white dots, making a small flower. Repeat decoration across pot, as shown in the "Step 3" picture. Let dry.
You can leave the pot as is, or use a clear varnish coat to help protect your artwork. If you add varnish, let it dry completely before beginning to glue.
Glue the dish to the pot, as shown in the finished project picture. Glue the birds to the side of the dish and let everything dry.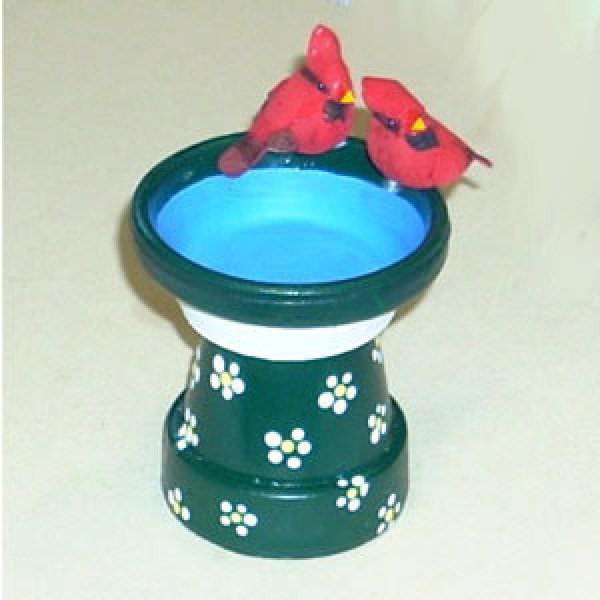 Notes:
Depending on what you plan on using the mini birdbath for, you can leave the inside of the bath green, or paint it blue. For example, if you plan on filling the birdbath with blue potpourri, then you probably don't need to paint it. If you plan on putting it in front of a dollhouse, then you probably should paint it. But in the end, the choice is all yours, because this is your little work of art!