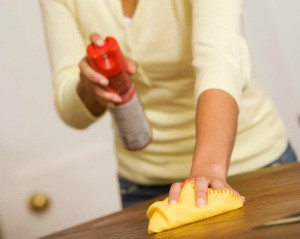 I bought a cherry wood antique chair recently. When I moved the chair last week while vacuuming, I noticed the cherry wood stain got on my white rug in 4 spots where the legs were resting. The chair's wood stain must not have been completely dry when I purchased the chair. I've tried a carpet cleaner, which didn't take the stain out at all. The antique store didn't have a clue to help me. Please send your ideas...thank you!
Libby G.
Answers
By Becki in Indiana. (Guest Post)
August 26, 2004
0

found this helpful
Several years ago, my cat knocked over a can of furniture stain my husband was using, leaving a huge spot on the living room carpet. After trying several expensive remedies with no luck, I tried a hint I read online -- squirt foaming shave cream on the stain, work it into the carpet with a rag or brush, let it dry, vacuum up. You may have to repeat a few times. Just get the cheapest shave cream at the store, or try whatever you have on hand -- as long as it's NOT GEL. I was very skeptical, but it worked! At most, you've lost a dollar if it doesn't work for you. Good luck!
By Jane (Guest Post)
May 28, 2007
0

found this helpful
I just dropped a quart of cherry stain on my white carpet!
Editor's Note: I'd try to get as much of it up as you can with rags or old towels being careful not to drip it on the rest of the carpet. I don't know that you will have much luck trying to get the stain out. I'd look for a new piece to replace that part of the carpet.
August 11, 2016
1

found this helpful
I just saw a video on YouTube where they suggested using WD-40! OMG!
I had three drops of dark Old English scratch
stain on my nylon carpet yesterday and it took it out like a charm !!
Instantly!! amazing!!! Just make sure you have a rug/spot cleaner to take out the oiliness afterwards . :-)

September 25, 2016
0

found this helpful
Spilled Old English furniture polish on beige carpet. What can I do to remove stain?

April 26, 2017
0

found this helpful
What is it with all of us and Dark Walnut English Oil???
I sprayed WD-40 and let it sit for about 30-40 seconds then blotted - then sprayed again, blotted and then rubbed.
My carpet is light beige - no it's not - it is mostly white with tan in it. Short, tight Berber. We had a small flood in the basement and I was giving the carpet away because insurance had to replace all of it. I was careless in polishing furniture 4 days ago and got over- spray everywhere. I asked a large family (who have had a lot of bad luck lately) if they wanted the room full of carpet and when they said yes - I panicked - I didn't want to give them terrible carpet.
So I took a chance with the WD-40. I am amazed and stunned. I did not think it would work. I have a steam cleaner and I used it to put moisture back into the carpet. It is unbelievable! They loved the carpet and I showed them the 15" X 18" section they would have to look out for. I think the suggestion of using a little diluted Dawn with the hydrogen peroxide might help the spot to NOT collect every little piece of dirt that comes across it.
So very glad I ran across this post! I hope this helps someone else too.
September 11, 2017
1

found this helpful
Whoever thought this one up is a genius! I tried this and it really worked. Thank you for the idea!

March 20, 2021
0

found this helpful
Oh my goodness!! WD-40 is a miracle! Spilled Old English Scratch cover on our light beige Berber carpet. I panicked. Used alcohol, carpet cleaner, hydrogen peroxide without any success. Husband said look online. Found your suggestion, stains disappeared before our very eyes as we brushed it in. Then we cleaned the carpet to get the oil out. Dont know what it will look like in 3 months but for now, I am happy!! Thank you!!

April 24, 2021
0

found this helpful
I tried WD40, shaving cream, hydrogen peroxide,vinegar, Stain not as bad but still there. I'm open for any suggestions
Answer

this Question

I got Old English furniture scratch cover for dark woods on the carpet. How do I get it out?
Answers

Judy
Gold Post Medal for All Time! 677 Posts
May 8, 2017
0

found this helpful
Make a solution of 2 parts hydrogen peroxide and 1 part Blue Dawn. Work in with a brush. Spray with distilled water and blot with a clean white rag.

attosa
Diamond Post Medal for All Time! 1,246 Posts
May 8, 2017
0

found this helpful
Dab the stain with a small amount of club soda, plain water, or a mixture of eight ounces of water, one drop of uncolored dish soap, and one teaspoon of white vinegar. After blotting, dry the spot with a hair dryer.
May 9, 2017
0

found this helpful
Thanks so much for your information. I removed the total stain. I used a Viva paper towel and blotted the spots of Old English Dark Furniture Oil on my white carpet several times and then sprinkled lighter fluid on what was left of the stains and blotted the stains again with clean Viva paper towels. It all came out immediately.
I appreciate your input and help.
Answer

this Question

Old English furniture polish spilled on my carpet. How do I clean it?
By marily from Canton, OH

Answers

October 26, 2010
0

found this helpful
I too tried the automotive hand cleaner. It worked! I didn't let it sit very long. I blotted a lot first. Used a small amount on a Q-tip, agitated, blotted again, then used damp paper towel. It took the Old English Furniture Polish out 100%! Amazing! Awesome! I'm so happy! Thanks for the tip!
June 9, 2018
0

found this helpful
Used engine starting ether spray, came out like magic. No joke.
Answer

this Question